Every time there's a chance to travel to Montreal, I jump on it! I love this city!
Locals are passionate, seem to enjoy life a bit more and take pride in their out-of-this-world food scene.  After all, what's not to love.
Unique,  delicious, French.  Going on a 24 hour food bender in this town is essential.  And that's exactly what I did.
Started with breakfast.  Got a recommendation to hit a cafe/bakery about 3 km northeast of downtown, near Mount Royal Park and the eastern edge of historic McGill University.
Stomach growling, I ordered one of the house specialties.  Over-easy egg resting nicely on a croissant. Genius. Efficient. Combines the beauty of both worlds.  And avoids a mess.

For years, when in Montreal, I'd hit up Schwartz's deli on St. Laurent. An institution in Montreal and famous the world over, this place is always jammed, with a lineup out the door sprinkled with a hectic eating atmosphere.  This time around, I thought to change it up.
I went across the street. The Main. More serene, same price, same portion, equally awesome.
Montreal smoked meat and of course, poutine.
Classic Canadiana.
These are the meals that you feel euphoric about while you're sitting there stuffing your face, then painfully regret eating after you've had some time to realize the amount of fat you've just ingested.
No regrets.
Poutine consists of French fries, topped with gravy and cheese curds. If those curds don't squeak when you bite down on them, then it's not really poutine.
These days, restaurants around Canada have  their own version of this artery-clogging beauty, including pulled pork poutine, Mediterranean inspired poutine, even ancho braised beef short-rib poutine….and the list goes on and on.
To me, poutine is best in its classic form.
I hit up another recommended restaurant in NE Montreal, Au Pied de Cochon (Pig's Foot). Packed for a reason, the food here is considered to be legendary. Their speciality (among other things which we'll get to in a second), is Foie Gras Poutine.
Delicious and disgusting at the same, time, this dish is a whopping $25! Definitely not on the cheap but definitely worth the wait and worth the experience. If you can, I recommend sitting at the bar at Cochon. Yes, the space is tight but you get a front row seat and see for yourself how the kitchen here operates (well oiled machine) and how exactly they prep and plate.
Whether you're looking for fine dining or quick and classic, Montreal has what you're looking for. Where else in Canada can you order a pig's head, served on a platter, eaten in full (eyeballs and all, I assume) and left with a skeletal head of said pig on said platter all in one sitting?
Same place. Au Pied de Cochon. That's where.
Order a Pig's Head for 2.  Market Price.  Here's what the end result looks like.  And good luck with that.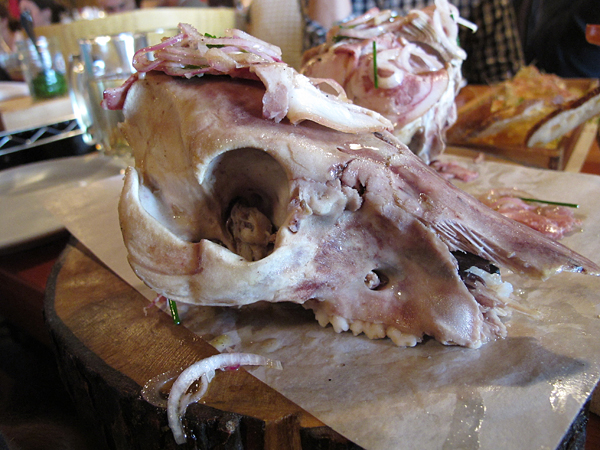 If that sounds and looks appetizing to you, you've got balls of steel.
Either way, if you're a traveler who believes that food is part of the travel experience, you'll take the gamble and love it!