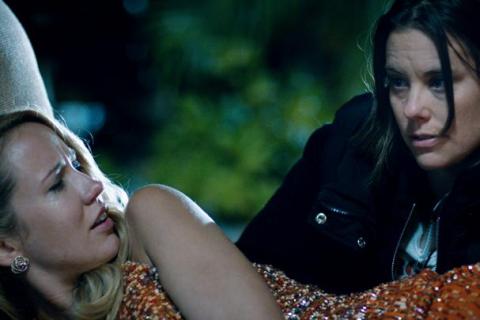 Director/writer Sarah Gertrude Shapiro was inspired by her real life experiences in the reality TV world to craft a short fiction film, with superb psychological performances, and a timely message about female social hierarchy and the role of the media in creating it.
ENTER Squin Raze, a film that will make its world premier at SXSW Film Festival this month.
Behind the scenes of a hit reality TV show, a jaded producer and a spurned beauty queen face off in psychological combat, and only one will leave victorious. Starring Anna Camp (Pitch Perfect, Tru Blood), Frances Conroy (Six Feet Under, American Horror Story), and Ashley Williams (How I Met My Mother).
Sequin Raze – starring Anna Camp (Mad Men, True Blood), Ashley Williams (How I Met Your Mother) and Frances Conroy (Six Feet Under) explores the dark and twisted mind of 'Goldberg', a jaded, once-feminist producer on a hit reality show, as she psychologically battles and manipulates female contestants into on-camera meltdowns, while simultaneously destroying her own psyche.
If in Austin and going to SXSW, be sure to check it out.