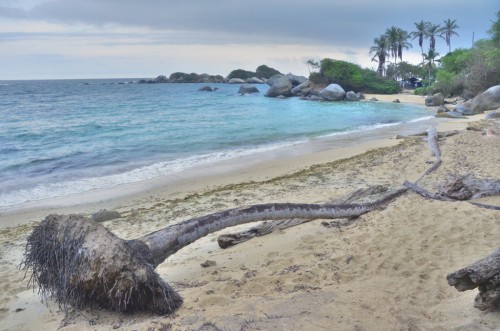 Sombreros, spicy food, Salma Hayek and substances that shouldn't be sought out. That's more than just sibilance there – they're likely just a few of the images that people associate if their eyes wander south of the United States on a map and cross over to sunny Mexico.
While some areas of Mexico are definite no-go zones, unless dodging bullets is one of the things to cross off on your vacation bucket list, huge swathes of the country are still safe for travelers, including the country's big name draw – Cancun.
This year, from August 11th through until August 13th, Cancun will play host to La Fiesta De Playa, or for those of you who don't know Spanish, a Beach Party – and one with a bit of a difference.
Cancun is known for its white sand beaches and turquoise waters, with many visitors to Mexico's Caribbean coast on the hunt for a good time, so the resort decided it was about time to combine these things together and throw a three day party that stretches across twelve miles of beach, from Punta Cancun and Punta Nizuc.
Easily accessible, the United States and Europe offer a myriad of options for flights to Cancun as people on their vacation seek a little personal slice of paradise. Adjectives like 'heavenly' and 'sublime' are often thrown around when people talk about Cancun, and one glance at photos of this Mexican town is enough to explain why. Cocktails on the beach, turning golden brown in the sun, and floating in the warm waters of the Caribbean are usually the main priorities of those visiting Cancun, yet the town offers so much more than all of the above during La Fiesta De Playa.
Fancy unleashing your inner Anna Wintour? Regular fashion shows see models strutting their stuff at La Fiesta De Playa, with skimpy swimsuits and devastatingly divine designs that are sure to send fashionistas' hearts a-fluttering. For the more athletically inclined, jet-skiing and surfing – with both wind and water – are offered up, as Cancun has waves just waiting to be ridden and engines ready for revving.
Not a fan of the water? Well, after questioning why you've decided to go to Cancun for your vacation, then volleyballs and footballs are waiting to be pummelled by your limbs, although do try not to send too much sand flying into people's eyes or Margaritas. And if none of the above appeal? Then just work on your tan or try to beat your personal record of how many Pina Coladas you can consume before midday. La Fiesta De Playa is a party with something for everyone.
After watching a stunning Caribbean sunset, the sky once again lights up at night, thanks to nightly fireworks shows that start at ten o'clock, with the sparkling rockets being launched into the sky from the sea. Before checking out the fireworks shows, make sure you head to one of the beachfront hotels as, from six o'clock each night, the hotels organise their own beach parties, with local restaurants, bars and discos getting in on the action and contributing to the party spirit at La Fiesta De Playa.
So if you're after a beach party this summer, but don't fancy being crowded by armies of British teenagers running wild on the street or hippies high on more than just life at Thailand's Full Moon parties, Cancun is where you need to get yourself to. La Fiesta De Playa is a celebration of what is undeniably one of the finest beach towns in the entire world. Want to see for yourself?