Visitors to the Sunshine State may not expect the food in Florida to be all that different from the rest of the United States, but like anywhere you go around the world, the local food tells everything about a place, reflecting its history, climate, people, and traditions. And so it is with Florida, the 27th state of the American Union.
Florida food is wildly diverse — from citrus to seafood and lots of southern specialties in the mix, peppered of course with the unique flavors of Latin and Spanish culture. It's a big state and one of the best destinations in the country for foodies. And because food is always regional, what you find depends on where you go.
Food in Florida
Florida is one of the most visited states in the US — America's Vacationland. So when it comes to Florida's food, anything a tourist can imagine can generally be found. From beignets to Bangers and Mash, curries to Cuban, pizza to southern-style PoBoys and a comforting bowl of pho. It's all here.
But if you're looking for what's local, the food that defines the place, then read on. In Northern Florida, lots of good Southern food spills over from the Deep South. Oysters from Apalachicola and succulent Gulf Coast shrimp is heavy on the menu around Tallahassee and the closer you move west toward the Gulf of Mexico and the Emerald Coast of the Florida Panhandle. Near St. Augustine, America's Oldest City, Floridian cuisine is peppered with Spanish fire and spice, a nod to the rich flavors that took hold here long ago.
In Central Florida, local food may get a bit muddled around Disney World where any food from around the world can be found. But just outside the tourist zone is where you'll find produce some true Florida famous food — fresh produce. Bright red strawberries and citrus in so many shapes and colors. Head west to the Nature Coast in the summer for fresh Florida Bay Scallops and sweet clams from Cedar Key. Seafood from Florida's Gulf Coast and cooler Atlantic waters also comes in many shapes and sizes — look for grouper, mahi mahi, and fresh snapper.
Finally, in south Florida where the sunny weather lasts all year long, you'll find the famous Floribbean cuisine, a wonderful melding of local Florida food prepared with a Caribbean flair. Ceviches are a perfect way to enjoy fresh seafood marinated (cooked) in citrus juice, and sustainable Florida stone crabs are a special treat.
If you're heading to Florida soon — making taking a long overdue Florida road trip along your favorite coast — here are the top Florida foods you have to try!
Florida's Food: 15 Local Foods to Try
1. Key West Pink Shrimp
If you're looking to try some of the tastiest food in Florida, these succulent morsels are not to be missed. You'll hear them referred to as "Pinks" or "Key West pinks" because of their rosy blush color. They're in season from November through June, and seafood lovers celebrate when Pink season rolls around. Key West pink shrimp are sweet and tender, the perfect Shrimp Cocktail or Peel-and-Eat shrimp appetizer. And of course they sweeten up any dish of Floribbean cuisine.
Native to the waters around the Florida Keys, you'll find Key West pinks in restaurants and seafood markets mostly in central and south Florida. Go pull up a stool at your favorite Florida beach bar, order up a plate of Pinks, and enjoy your little slice of Florida paradise!
Key West Peel-and-Eat Pink Shrimp, , one of our favorite Florida foods
Shrimp tacos in the Florida Keys
2. Key Lime Pie
Ah, sweet creamy goodness with a pleasantly crunchy graham cracker crust. If you're a lover of lime — or any Florida citrus for that matter — you'll no doubt also love a good Key Lime pie, the Official State Pie in Florida. Made from the smaller Key lime that is more yellowish-green in color and even a bit less appetizing than the brighter green Persian lime, authentic Key Lime pie is therefore pale yellow in color, and never, ever green. If you order a slice and are presented with a pie that is green, RUN… for this sad little pie is surely made with green gelatin one could only hope was also lime.
The Key Lime pie is thought to have originated in the Florida Keys, though I couldn't find any proof of that. But does it really matter? You'll find delicious Key Lime pies around the Sunshine State. Though we must admit we've had the best Key Lime pie in Key West, after much taste testing and a few pounds added. It was worth every one!
Tart and tasty Key Lime pie in Key West
3. Florida Orange Juice
Is there anything more iconic than Florida orange juice. It's a famous Florida food so highly regarded, it's traded on the New York Stock Exchange! The taste of fresh-squeezed Florida OJ can't be overstated, and if you've never tried it, no worries. Just imagine the juiciest orange you've ever eaten, and a whole glass of it. It really is the quintessential Florida food known throughout the world. The most common varieties of Florida oranges are Navel, Temple, and Valencia, but Hamlin, Pineapple, and Ambersweet oranges are also grown in over a half million acres — that's a lotta oranges! You can enjoy fresh Florida orange juice year round though the orange season technically runs during the Florida winter, October through June. Pick up what you need from the local grove where you're staying, or at the nearest Publix.
4. Florida Stone Crabs
Crab lovers delight! You'll be in seafood heaven when you come to Florida — if you're planning to visit from October 15 through May 15 — with this most famous Florida food that's both delicious and sustainable! That's when one of Florida's most famous foods is in season, the Florida stone crab. Florida stone crabs are actually found in the western North Atlantic, all along the Eastern United States and down to Belize, including the Gulf of Mexico, Cuba and Texas too. But they are especially famous in Florida.
Stone crabs are so-named from the ceramic-like shell that's rock hard and can be dangerous to handle when cracking them.
But it's not just the succulent claw meat that makes them so famous. Harvesting stone crabs in Florida is one of the most sustainable and highly regulated seafood industries in the US. Only the claws from stone crabs are harvested, not the entire crab. And only one claw is taken, not both. The crab is then thrown back to the sea with one claw remaining, and regenerates the second claw. The business of stone crabbing in Florida is highly regulated, and the result is a Florida delicacy that is pricey to say the least. You'll pay around $10-15 per claw, but the upsides are worth the expense. They're meaty, delicious, and you're supporting one of Florida's sustainable fishing industries for generations to come.
So the only question remaining is: will you dip yours in drawn butter or mustard sauce?
5. The Cuban Sandwich

Originating in early Cuban immigrant communities in Florida, particularly in the cigar producing cities of Tampa and Key West, the Cuban Sandwich also known as a Cubano, is a fancy and delicious type of ham and cheese sandwich. Eventually Cuban expatriates introduced the sandwich to Miami. The sandwich is layered, much the same as a sub or hoagie, with ham, Swiss cheese, roasted pork, pickles and mustard all on Cuban style bread. Sometimes for a little variation salami or lettuce and tomato will be added. That's it!
The bread itself is unique. It's a white bread shaped like a baguette with a soft crust. It's similar to Italian or French bread, but what makes it different is the addition of lard to the dough. Sometimes if Cuban bread is not available, the sandwich will be served on ciabatta.
Whether you choose pressed and hot or at room temperature, this is a unique and hearty taste of Florida.
6. Conch Fritters
You've spent the day on one of Florida's sublime beaches, getting oh-so-tinged by the sun. Now it's time for some cheap beach eats and a cold beverage! Conch fritters are what you need!
Conch out of its shell may not be the most appetizing sight, but chopped up into tiny bits and cooked into fritters, and this tough and chewy shellfish becomes tender and tasty, and is essential appetizer of Floribbean cuisine. Originally from the Bahamas off the coast of Florida and made with the beautiful Queen conch found just about everywhere offshore, it's no surprise these crunchy morsels found their way to south Florida. Fritters are a very Southern food, often made with corn and other hearty staple foods. But in Florida, conch fritters are the perfect combination of crunchy, salty, and savory, and best served with a cold beverage in a salty Florida beach bar!
7. Fresh Strawberries
Early Spring in Florida heralds the beginning of strawberry season in Florida, a short but beloved time of year when another of Florida's popular fruits takes center stage. Ranked second behind California for strawberry production, the majority of Florida's strawberries are grown near Plant City in Hillsborough County, just outside Tampa, a distinction that's earned it the nickname of "Winter Strawberry Capital of the World".
If you're visiting central Florida in March or April, look for the local farm stands and citrus grove stands to carry all the strawberries you need for sweet treats like Strawberry Shortcake, strawberry smoothies, or any other recipe calling for the fresh red berries.
8. Apalachicola Oysters
Shellfish lovers rejoice. From the panhandle of Florida where it meets the Florida peninsula come some of the best oysters on the planet — from Apalachicola Bay, a shallow salty lagoon and pristine estuary where conditions for growing plump oysters are ideal. These briny, mineral-y delights from the bay supply nearly all of Florida's restaurants and fish and oyster houses.
We're always asked, "do you chew them or just slurp them down"? If you really want to taste an oyster, bite down. The sweet flavor of the oyster is in its meat, so if you just let them slide down you're really missing out on the complex flavor. But we get it, we really do! It's a textural thing. ;-)
Oysters are served throughout Florida either raw, fried, in chowders, and in Po'Boys. No matter how you like to eat them, they are always fresh from Florida's Gulf Coast. Florida offers incredible seafood and when you visit, we suggest you give oysters a try. Just be warned that if you acquire a taste for them, you'll be wanting them time and again.
(Note: As of July, 2020, the Florida Fish and Wildlife Conservation Commission has shut down the state's iconic Apalachicola oyster fishery after years of drought (fresh water from the watershed is essential to creating the brackish water needed by oysters).
Together with the BP oil spill in 2010 and Hurricane Michael in 2018, wild oyster beds have been devastated. A moratorium on oyster harvesting to allow the fishery to recover may take up to five years.)
9. Kumquats
Are you a Sweet or a Tart? Nothing personal, but there are those of us who prefer to pucker up every now and then. If you lean toward the tart fruits, you'll want to give Florida kumquats a try. Smaller than a golf ball and oblong in shape, there are several varieties of kumquats but the two most common varieties grown in Florida are the 'Nagami' and the 'Meiwa'.
Originally native to Japan, the Nagami kumquat was introduced to Florida around 1885, and today, the city of Saint Joseph in north Florida has been known as the Kumquat Capital since 1895. Kumquats are Florida's food — a unique citrus with tart flavor and a long and delicious history in the Sunshine State.
But here's the thing when it comes to kumquats. Most people don't know how to eat them and it couldn't be easier. Are you ready? Just pop 'em in your mouth! That's right. There's no need to cut or peel them — kumquats are the only citrus fruit you can eat whole. The tender skin is thin enough (and safe too) to eat it skin and all.
Can you enjoy kumquats if you don't want the pucker? Absolutely. Loads of Florida kumquats are made into marmalade just for that reason. So look for it to try on your trip to Florida, and take home a jar or two for later.
Kumquat pops anyone?
Fresh, tart Kumquats from Florida
Kumquat marmalade is a perfect blend of tart and sweet
10. Cedar Key Clams
Cedar Key along the upper Gulf Coast is one of the most authentic coastal towns in Florida as you're likely to find, and well worth a visit, whether you're on a Gulf Coast road trip or on a day trip from Tallahassee or Crystal River. Located where the Gulf Coast meets the tidal marshes on Florida's Big Bend, Cedar Key is charming and rustic. But it's the unique location which blesses the area with one of the most sought-after food in Florida — Cedar Key clams.
Grown in the mucky, marshy mudflats around Florida's First Key (don't come here for the beaches), clamming on Cedar Key is big business. As in multi-million dollar big, and produces one of the most popular Florida foods. Similar in size to Little Neck clams, Cedar Key clams are sweet and so succulent, and one of those foods you have to eat in Florida. But don't look for them far from Cedar Key. They typically aren't found in abundance in other parts of the state.
If you love a unique sea-to-table experience, visit Southern Cross Sea Farms for an in-depth slow travel experience and all you need to know about Cedar Key clams. They're one of Florida's largest producers of hard-shell clams and their weekly tours of their facility are one of the fun things to do in Cedar Key.
Cedar Key clams, one of the most popular Florida foods
11. Florida Famous Fish
Mahi Mahi
Known as Dorado in Spanish and Dolphin in English, the most common name for one of Florida's most famous fish is the Hawaiian Mahi mahi. These fish are caught offshore by anglers from Florida's northeast Atlantic Coast all the way to the Florida Keys. Key West is a favorite for anglers and those who just enjoy Mahi mahi served in their favorite way. The fast-growing, free-swimming fish are caught as the smaller 'chicken' size and up to 30 pounds or more.
Mahi mahi are wonderfully bright and colorful fish — one of the prettiest fish in the ocean, and tastiest. You'll find Mahi mahi served like most any filet — grilled, blackened, or fried. One of our favorites served here in southern Florida is Mahi mahi tacos. Absolutely try delicious Mahi mahi in whatever way you most enjoy fish. Just make sure you try the tacos.
Snapper
The subtropical waters on Florida's Gulf Coast hold several species of snapper: Mangrove, Mutton, Lane, and Yellowtail to name a few. Some are caught in shallow water while others inhabit deeper waters, and all are delicious. But without question, on most Florida menus you'll find the most prized of them all, Red Snapper.
Like Mahi mahi, snapper is served blackened, grilled, fried, and yes, in tacos. Red Snapper filets are can be prepared the way you choose in most any good restaurant. On menus around the state especially in the Florida Keys, Yellowtail is prepared as you like, in tacos, and is the sweetheart of sushi bars. Seafood doesn't get any better than fresh Florida Snapper.
Grouper
One of the world's least attractive fish is one of the most delicious here in the Sunshine State! Several species of Grouper inhabit both the Atlantic and Gulf coasts of Florida and they're a favorite to eat.
But due to their slow reproductive rates, harvesting is tightly controlled to avoid overfishing and regulations are different for the Atlantic Ocean and the Gulf of Mexico. These delectable fish are sought after in oceans around the world, but nowhere does it get any better than right here in Florida.
On most menus, the fish is listed as simply 'Grouper'. There is always a debate on which is the tastiest, but arguably Black, Red and Gag Grouper are considered the best.
Most seafood afficionados agree that Black Grouper may just be the most prized for the table. Grouper is served as you might expect — grilled, blackened, sadly fried, in tacos, and as Grouper Bites in many casual restaurants. Even if you're not a fish eater, give it a try. Grouper is meaty, and you'll find the taste to be sweet and very mild no matter how you choose to have it prepared.
12. Miccosukee Fry Bread
Adventure lovers and slow travelers looking for an authentic glimpse of Florida before development and tourism should head south toward the River of Grass, the beautiful Florida Everglades. This vast wilderness and fragile ecosystem is nature's filtering system for the rivers, and lakes flowing from central Florida down to the Florida Bay.
The native American tribes who called this land home lived here long before anyone else arrived and some descendants of the Seminole and Miccosukkee tribes still live here today. If you like finding local food, you can't get more traditional and local than a plate of fry bread, made to order at the Miccosukee village in the heart of the Everglades. Located near the Shark Valley Visitors Center and entrance to Everglades National Park, the Miccosukee village restaurant serves up plates of fried pumpkin bread made to order.
Stay for the side shows if you want, though we can't speak to the authenticity of those. But the fry bread is quite tasty and we hear the Gator bites are pretty yummy too!
13. Fried Alligator
Florida is home to alligators and crocodiles. In fact, the southern tip of the Florida mainland before the Florida Keys and Key West is one of the only spots in the world where the American alligator and American crocodile co-exist. This cold-blooded amphibian has also been on the menu in Florida for centuries. Today. you'll find in as a sports bar favorite, however more and more culinary masters are taking this native Florida food seriously and taking the Gator Bite up a notch or two! The unofficial mascot of Florida may taste like chicken (sorry), it also could be mistaken for fish, so you may find yourself a bit confused at first if you don't realize what you're eating.
Florida does have a hunting season for alligator, but any served in Florida restaurants must be farm-raised and are typically juveniles. As for the taste, if it's prepared well, it can be quite tasty. We've heard local Chefs claim to use buttermilk to soak the gator before it's fried. Otherwise it can be chewy to say the least. But if it's local food you're after, it's a definite Florida food to try when you're here.
14. Citrus Swirl
Give your tongue a sleigh ride! What goes better together than fresh Florida orange juice and farm fresh cream, especially when it's the frozen kind swirled in a wafer cone? It's Florida's answer to the Creamsicle — a good old-fashioned Citrus Swirl from a Florida orange grove stand is still one of the tastiest treats around!
15. Florida Bay Scallops
If you love scallops, be sure and visit Florida's Nature Coast in the summer time and try the most succulent bay scallops in the world. Better yet, go scalloping in Florida! Dive in and gather them up yourself, for a truly unique sea-to-table foodie experience. It's one of the most refreshing things to do in Florida in the summer, and some of the most fun you'll have on your family vacation. Kids of all ages will love finding them and filling their bucket — a 2-gallon bucket is allowed per person — and good swimming skills are required. If scalloping isn't quite your thing, you can't beat a refreshing swim or float in the warm waters of the Gulf of Mexico in July.
When is Florida scallop season? Generally in mid-summer from early July to mid-September.
Sea-to-Table Scalloping: Step 1 – Dive for your dinner!
Step 2: Shuck 'em from the shell!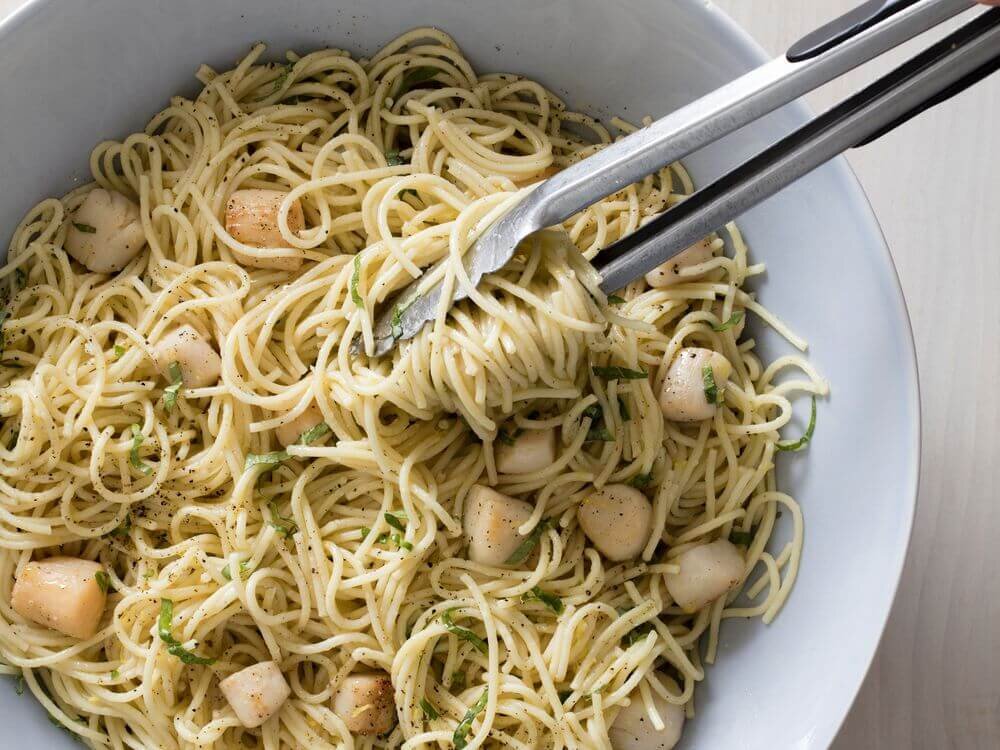 Step 3 – Eat them in butter or added to your favorite dish!
How many of these Florida foods have you tried? Did we miss anything? Share your favorite Florida cuisine or popular Florida foods below.