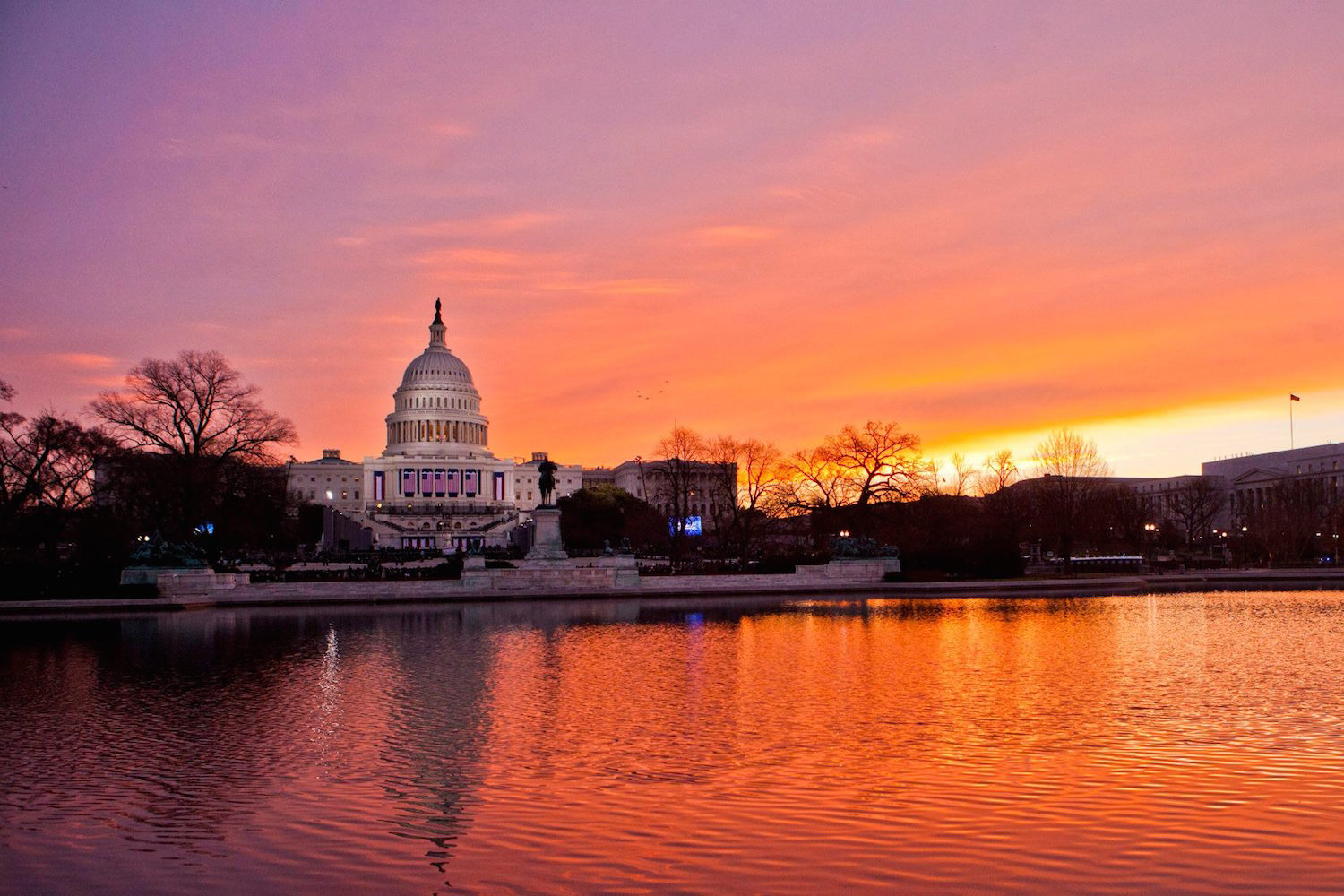 It's been more than two centuries since Washington D.C. was founded and if you've ever been there, you'll agree: It would take at least that long to get to know the city properly, from its timeless architecture and monuments, to its exquisite natural sites, to the culture that seems to be lurking around every corner.
The bad news is that it doesn't look like an immortality elixir will be passing through the National Institutes of Health anytime soon. The good news? Mere mortals can see the best our nation's capital has to offer – or at least, a tantalizing tease of it – in just one day.
Sunrise Over Capitol Hill
Be sure you get yourself down to the National Mall just before the crack of dawn – the spectacular sunrise over the monuments of Capitol Hill is definitely worth the early rise. Reward yourself with breakfast at Pete's, a divey yet delicious local treasure. With day fully broken, enjoy a stroll in the dramatic shadow of the National Monument, or pay your respects at the Lincoln Memorial.
Museums at Mid-Day
Your morning in D.C. is sure to stir your heart and soul, so get your mind going at mid-day. Spend at least a couple hours at the Smithsonian Institute, located just steps from the Reflecting Pool, then pick one or two other nearby museums to tide you over until lunch time. You could choose the National Gallery of Art or the United States Holocaust Memorial Museum.
Enjoy a light, late sushi lunch at Momoyama then, as the afternoon light begins to creep in, make a beeline for the United States Botanic Garden. Then, head back over to the National Mall to watch the sunset in the same place you saw it rise.
A Night at the Opera
Take in a Night at the Opera – check the schedule a few weeks before your trip, so you can snag tickets to whatever show is in town during your visit – whether you take in a classic like "Cinderella" or an avant-garde piece such as "Dialogues of the Carmelites," you can't find a more quintessential Washington D.C. cultural experience than a night at the National Opera.
Paint the Town – Georgetown
Grab a bite to eat near the National Opera, or start your evening in trendy Georgetown with dinner – the New American fare at 1789 and the charming French cuisine at Bistrot Lepic are standouts, historically appropriate ones at that. Whether you wet your whistle at the watering holes of M Street, or take a breather along the picturesque Georgetown canal, there's no better place to end your short stay in Washington D.C.
In an ideal world, this itinerary would be the beginning of a larger trip in our nation's capital. Even if you have to come back at a later date to experience the rest of what Washington has to offer, your dynamic day in D.C. is just the beginning.
Top photo credit: https://www.flickr.com/photos/quintanomedia.