Here's a good post by Meg Houston Maker (@megmaker) on wine blogger etiquette. Worth reading for anyone who wants to have some insight into the challenges for wineries trying to cultivate the diverse wine blog universe – and ways they judge a wine blogger.
Five or six years ago, almost any casual wine enthusiast could launch a WordPress or Blogger blog, write a post about each new wine he drank—from the plonk to the good stuff—and wait for wine samples to come pouring in.
And pour in they did. At the time, American wineries and their PR agencies were making a sincere effort to become au fait with social media and its usefulness for propagating a brand. Many began compiling their own house list of the top two or three hundred bloggers and automatically sending them samples with each new release.
Emboldened by this wave of interest in social marketing and by their own surging readerships, wine bloggers also reached out directly to wineries to request samples—some even promising to "move the needle" on sales once their review was out.
Samples started piling up;  a "wine monster" had been born. The free wine came with a cost. Receiving samples was a hassle, because the writer had to sign for the shipment. Many writers were annoyed by the gimmicks included with the wines. And how would they ever drink it all—to say nothing of finding the time to write about it?
By 2010 the predicament was evidently so dire it prompted wine blogger Alder Yarrow to pen an eight-point communiqué to wineries on the etiquette of sample shipments. It begins, "OK, all you marketing and PR folks, listen up. This article is for you. Specifically for those of you that haven't quite figured out how to deal with us wine bloggers yet when it comes to wine samples. And there are clearly a lot of you."
My, how times have changed. During the recent soft economy, many wineries trimmed marketing budgets to focus on activities that yielded measurable impact on sales. Upticks caused by written reviews are hard to prove definitively, since the industry's three-tier distribution system obscures the impact of a writer's recommendation, smearing it out over time and space as demand works its way through a distribution network.
I've just spent the last two years managing consumer marketing, e-commerce, and social media relations (plus a load of "other duties as assigned") for a mid-sized California winery. Sampling the media is expensive. For a $50 bottle of wine that costs the winery, say, $20 to produce, the winery spends $35 to ship that sample to a writer in New York.[1]
Consequently, wineries got more choosy, pruning their media lists to keep expenses in check. Rather than automatically sending samples, most began emailing writers to inquire about their interest, then fulfilling requests on a case by case basis. Some wineries stopped sending samples altogether, preferring to invite the writers to the winery to experience the wines in context.
"Ten years ago we had our list, and we just sent to everyone all the time," reports Michael Wangbickler of Balzac Communications and Marketing in Napa, California. "Now we always custom-build our lists for each client based on what we think is the appropriate audience."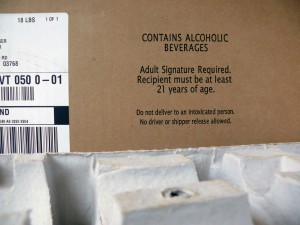 That required marketers to step up their research on each writer, looking first for legitimacy—the writer's commitment to their publication and the consistency of their posts—and next for fit, a good match between the needs of their marketing program and a writer's tone. It costs a lot of time. "We do a lot of reading in our office," says Tia Butts of Benson Marketing in Napa. But adds, "It's our job to find new writers and new gems."
So—yes, it is really important for marketing people to understand and respect a writer's needs. But given the amount of effort the marketers are expending on the process, it's important for a writer to be mindful of the marketer's constraints, too. To get perspective on this, I sought input from winery marketing managers, PR agency reps, and several experienced wine writers, and drew from my own experience working on both sides of the business. Some spoke only off-record, but overall the responses I got were remarkably consistent, and likely helpful both to seasoned writers and those new to the field.
The etiquette of sample requests
Herewith, to parallel Alder Yarrow's eight recommendations to marketers on the etiquette of sample shipments, are eight recommendations to bloggers on the etiquette of sample requests:
1. Be about something.
This first recommendation isn't about samples at all, it's about you and the focus of your blog. What is your publication about?
Maybe you write only about Greek wines, or about California's Central Coast. Or you're interested in biodynamic or natural wines, or wines under $20. Maybe you simply want to chronicle your food and wine experiences.
That's fine, just say so. Put this statement in your "About" page, along with your name and location, so that your readers will understand where you're coming from, and wineries and PR firms will understand your gestalt. "We are amazed at how many wine blogs we visit have no information about the author or their audience," says Butts. Tell them.
2. Write well. Mind your readers. Don't be afraid to be critical.
Okay, this one isn't about samples, either–we'll get there. In determining whether to add you to their media sample list, marketers will visit your site to evaluate your work. They want to see evidence that you're serious about what you're doing and responsive to your readers. Do you write well? Are your articles compelling? Are you making an effort to say something? Do you post often enough to ensure consistency, or does your blog seem spotty and louche? Marketers will likewise evaluate your activity on social channels, like Twitter and Facebook, to see how engaged you are.
Also: it's okay to be critical. Negative reviews prove that a writer is using her mind. "I actually want to see that a blogger has panned wines, and for viable reasons," says Jim Morris of Michel-Schlumberger Wines, also in Healdsburg. "I can't tell you how many bloggers I no longer follow because I simply never read a bad review…they were afraid to take a controversial stand in fear of losing their winery connections." However, if you're consistently snarky and condescending, marketers will likely demure on providing you with many samples. Tone matters.
Lisa Mattson, communications director at Jordan Vineyard and Winery in Healdsburg, California, sums this up well: "Blogging isn't just about filling a need to write or share commentary, it's about filling a responsibility to your readers, because that's what a journalist must do."
3. Do your research. Explain your needs. Pitch yourself.
"Everything involves a pitch now," continues Mattson. "It doesn't matter if you're a PR person at a winery and are pitching the Times, or you're a blogger sending an email—you have to know how to pitch."
Research various wineries to decide which ones are the best fit for your subject matter. Then, substantiate your request by stating explicitly how you'll use the samples. Perhaps you're working on a story about a particular region like the Loire, or you're doing a series on red wines to pair with fish. Be specific and succinct about your needs. Why this winery, why these wines, and why now?
Additionally, and critically, offer a few lines about what your blog is about, and include your URL, Twitter handle, and pertinent demographic information on your readers, specifically monthly unique visitors, monthly unique page views, and number of subscribers by RSS or email. Provide your best shipping address and an alternate address if you live in a state with tough direct-shipping laws. Let them know how they can reach you.
Again, pay attention to tone. Write as if you're sending a professional memo to a colleague. "If you can't write a good email then why would I believe you'd have a blog with lots of readers?" asks winery PR and marketing consultant Mia Malm. "Write well even if the tone of your blog is casual."
4. Newbies are welcome—just don't expect the moon on a plate.
Maybe your blog is brand new, with few posts and a small readership. Or maybe you're brand new to wine and have started writing as a way to track your exploration. All of that is fine, and many marketers are willing to take a chance on new writers because they see it as part of building their cohort. Just be upfront about this on your About page and in sample request emails.
"It's rare that we turn people down, and we manage to fill most requests," says Butts, although she adds, "I've seen a writer get defensive because I start asking more questions about them or their publication. More than once I've heard, 'I bet if I were Robert Parker you'd send wine right away!' Well, you know what? I might. I know that publication and I know its influence with the trade. That kind of attitude isn't going to get you anywhere."
So go ahead and introduce yourself and request that you be added to a sample list—just don't expect immediate results. Many will comply and will get back in touch when they think you might fit their needs.
5. Respect the costs.
See above. Wine is expensive, and wine shipping is crazy-expensive. Don't ask only for Reserve wines, and be respectful about the number of samples you request from any given supplier. "There's a budget behind samples," says Mattson. "There isn't this endless flow. It's not like giving away samples of Popchips at a rock concert. Wine is very different."
But she also suggested that bloggers in a particular city could pool their sample requests. They may all have different story angles, but a group could share a sample rather than each receiving a full bottle. "The sample pipeline has dried up," she added. "If they want to get it open again, that would work."
6. Respect the schedule.
Do provide marketers with a sense of your publication deadline, especially if you're working on a specific story. If you maintain an editorial calendar, you can share it with your PR contacts. Ken Hoggins, of Ken's Wine Guide, reportedly does this, and it's a smart strategy, because agencies can see what he has coming up and pro-actively send him the wines he needs.
Be mindful that ground shipping can take up to eight days, and that in order to show well, wine needs to settle for a week after transport. Even if the wine will be coming to you from a local distributor, allow several days for the request to make its way through the system.
7. It's about business.
Here's perhaps the most common blogger sample request: "Hi, I've got a wine blog, and I want to try your wines. Would you send me some samples?"
And here's the most common initial reaction: "If you want to try our wines, then buy them."
A wine blog is not a way to get free wine. A wine blog is an online publication where one publishes thoughtful evaluations of a deeply complex, experiential product so that others can gauge their own interest in it and possible response to it. In other words, you should be writing about stuff because other people want to read about it, not because you're interested in getting free stuff.
When you write about a product, you are essentially giving the product a voice. Marketers know this keenly, and will monitor what you say about their product and how you say it, in order to decide whether they like how it sounds in that voice. Again, if you're snarky or relentlessly negative, you will probably be passed over for future requests.
Which doesn't mean you can't write about the wines. It only means you'll have to buy them for yourself.
8. It's all about relationships.
Markets are conversations. Keep the lines of communication open. Let your contact know when you receive the samples and when you plan to write about them. If you open the wine and it's flawed, let them know—most are happy to provide a replacement. Even though competent marketers monitor mentions of their brands and will likely find out when your story is posted, it's courteous to drop them a quick note.
To read the rest of the piece, go here where the original can be found on PalattePress.