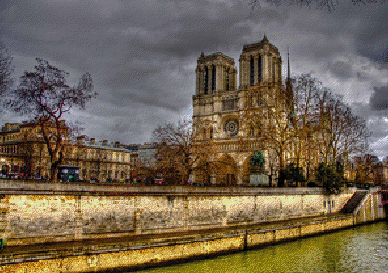 Who hasn't imagined enjoying a café au lait at a bustling sidewalk café, followed by a stroll along the Left Bank to a chic apartment overlooking the Eiffel Tower — where you write a best-selling novel or paint a legendary portrait? The notion of moving to Paris is a romantic fantasy for many people, but the reality of moving to the City of Light requires more than packing a beret and an easel and booking a one-way flight to Charles de Gaulle Airport.
That doesn't mean it's impossible, though. Moving to Paris is completely doable, if you plan ahead and know what to expect when you arrive. While it's more involved than moving across town, moving to Paris can be the beginning of a new, exciting and romantic phase of your life.
Language and Legalities
It might not come as a surprise, but you should have a rudimentary grasp of the French language before heading to Paris. Speaking French fluently will open up more opportunities for jobs, assuming you don't already have one lined up. Speaking and reading basic words and phrases will also help you understand your lease, utility contracts and have more pleasant interactions with your neighbours.
You'll need to get government permission to stay in France longer than three months. To move to Paris for up to a year, you'll need a long-stay visa, which takes about two months to acquire. Make sure you apply for your visa before you leave for Paris, since you can't get the document if you are already in the country. Once you've been in France for a year, you can apply for a new visa or permanent residence. Keep in mind, you'll need to provide proof of a place to stay, income and a clean criminal record before you can get a visa.
Once you know where you'll be living in Paris, establish a bank account. Even if you will still be maintaining your Canadian bank account, you'll need a local bank account for managing your expenses in Paris; in some cases, you won't be able to make payments or acquire services without a French bank account.
Moving Your Belongings
Chances are, you aren't packing up to move overseas without visiting ahead of time; however, bringing everything you own is very different than packing for a weeklong stay. Tourism is important in Paris, and hotels offer visitors everything they need to stay comfortable for a short period. When you are setting up your own house, though, you probably won't be able to bring all of the comforts you are used to.
When you start looking for a place to live, seek out a furnished or partially furnished rental; if you decide to stay in Paris permanently, you can invest in your own furniture later on. Renting a furnished apartment or house allows you to sell or store your belongings in Canada. Shipping items overseas is expensive, and many of your electronic or electrical devices will not work in France due to voltage differences.
Instead, pack only what you will absolutely need, such as clothing and personal mementoes. And Fido doesn't need to stay behind. If your family pet is properly vaccinated, he can come along for the adventure as well.
Getting Help
Moving to any foreign country can be an exciting — and overwhelming — experience. That's why there are relocation specialists throughout the city who have made careers of helping people get settled in the city. A specialist can help you find the right place to live, manage the installation of utilities and help you navigate the myriad cultural and tax differences you'll encounter as an expat.
Whether you're moving to Paris for work or to embark on a personal adventure, whether you choose to go it alone or hire some help, getting to your new home is an exciting, but involved, process. With some planning and attention to detail, though, you'll be enjoying that café au lait before you know it.
Image provided by Miguel A. Pajares from Flickr's Creative Commons. Post contributed by Phillippa Markham who moved to Paris after graduating with a degree in French and art history in Vancouver.