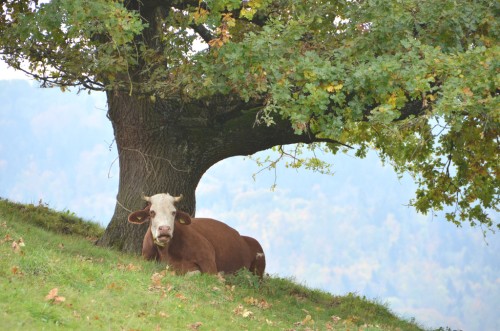 Edinburgh is a popular destination for both overseas and over-the-border visitors; tourists coming to the UK choose this city more than any other except London. The statistics agree, but this is not surprising to those of us who have spent multiple enjoyable family getaways in Scotland's capital. Returning to re visit or do something new (in somewhere old) means every trip is almost as fresh and eye-opening as the first.
Conservation Vacation
As an animal lover, wherever I go on holiday, I always like to check out the zoo or wildlife park if there is one nearby. Edinburgh actually has both – a traditional zoo very close to the city (a short hop on a frequent bus was my choice) – and Highland Wildlife Park, a more immersive experience a couple of hours away at Kincraig, near Aviemore.
The zoo is well regarded for some big name attractions – giant pandas, tigers and particularly the penguins, who have a fantastic new environment "Penguins Rock".  At the time of my visit, my favorite was a less well-known native –the Scottish wild cat. It was tricky to get a good photograph of this feistier close relative of the family pet, which has now been re-housed at the Highland Wildlife Park.
They are small but have a big attitude – as you can tell from his expression:
With UK wildlife's plight being in the news so much recently, I so one hope that these places won't be the only opportunity that some of these creatures can be seen in the kid's future.
For a family visiting Edinburgh there are so many chances to add education to the vacation. I visited the castle and the Camera Obscura (now called the Camera Obscura and World of Illusions!) One of the main reasons that it so easy to fit so much in is that the city is so compact . Take the aforementioned castle, instead of being a good horse-ride or trudge away; it is right in the heart of the city – overlooking the main shopping street. On my bucket list next time would be the Our Dynamic Earth 3D interactive experience.
The Festival is more than the Fringe
A couple of my previous trips to Edinburgh have been to attend almost back-to-back Fringe events. One of the most well-known comedy happenings, almost any year you are likely to have the chance to see acts that will be still in their "before they were famous" stage, or big household names that like to go back to their roots and play a live show like they did before they were famous. Remarkably some of the shows I experienced were extraordinarily clever and entertaining, but inexplicably failed to catapult their stars into the limelight. Biggest is not always best – there really is something for everyone.
Beyond the Fringe part of the Festival(s) there are events from April to Hogmanay covering music, arts, books and more.