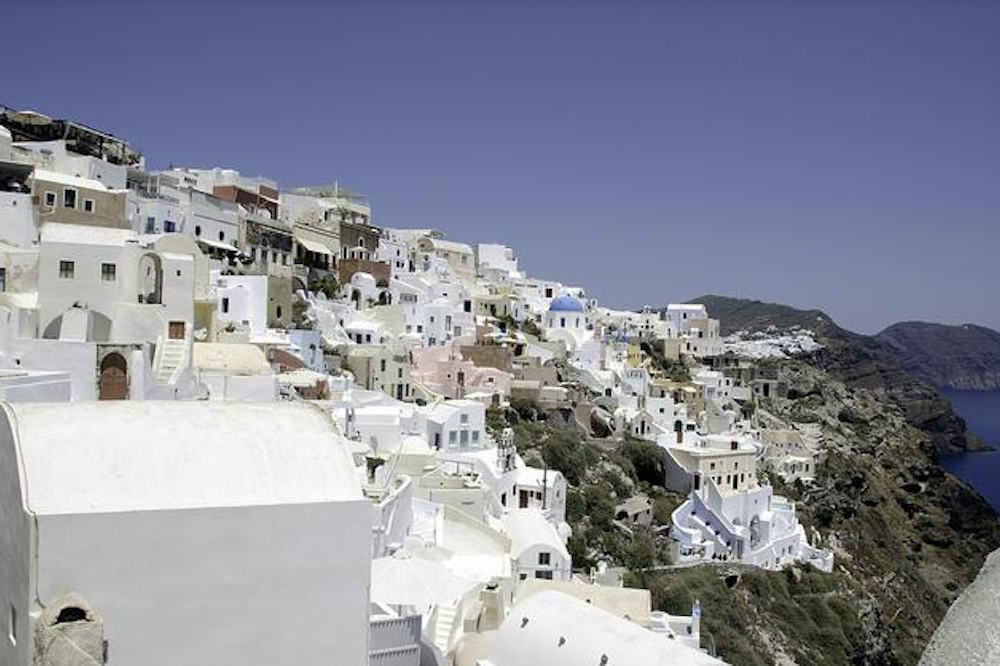 When you think totally idyllic island escapes, our minds may drift to, Bora Bora in the South Seas, Koh Phi Phi off Thailand, or exclusive Caribbean getaway St Barts.  But Europe does have an island which can compete on an equal footing with these dream destinations. The Greek island of Santorini is stunningly spectacular and awe inspiring.
From the air you can pick out a tiny set of five little islands seemingly drifting along on top of the ridiculously blue Aegean Sea. If you look carefully it is pretty obvious that this set of islands were once a single solid mass. In 1650 BC a formidable volcanic eruption ripped a single island apart to form the strange jigsaw of small islands we now see.
There is the tiny white uninhabited island of Aspronisi, its neighbour is Thirasia, well worth visiting if you can hack the hard climb or a donkey ride. This island has changed so little that just about every view is still the same as when I first visited in the late 1970s.
Cosmopolitan but Unspoilt
In fact, 30 something years ago the main island of Thira, which is most commonly known as Santorini, was very much how Thirasia is now. Santorini has certainly developed into a cosmopolitan, but still unspoilt Mediterranean island, getaway. The island boasts a truly exciting and intense coastline stretching for about 70 km.  Encompassing black sandy beaches such as those found at the popular resort of Kamari. And ridiculously dramatic 300m vertical cliff faces found at the stunning little village of Oia.
Famous Oia
Oia is actually more famous than you would think. For three decades seemingly every Greek travel poster and holiday company brochure would show stunning pictures of Oia. Presumably the location was intended to represent the stark beauty of Greece. Again this town has hardly changed in a generation, granted, there are a few more gift shops. But with little physical room to expand the town may possibly always be amongst the most beautiful in the world.
One of the Worlds Great Sunsets
One of the major attractions of the island is its reputation for some of the most spectacular sunsets seen anywhere across the globe. The ancient volcanic cone or 'caldera' sitting a short distance off the coast of the island's capital Fira provides an unparalleled spectacular backdrop to the setting sun.  It may also be that being perched on the edge of a 300 m near vertical cliff with a totally uninterrupted view crystallises to the drama of the event.
Fira
Fira is an extremely popular day trip destination, and in fact they must-do for anyone staying at any of the resorts dotted around the island. Here you can join the large numbers of passengers from cruise ships who have been fortunate enough to approach the island in spectacular fashion from the sea.
Flowers are found everywhere in this town, on walls, on the rooftops and in the narrow cobbled side streets. There is no denying that there is a considerable amount of commercialism in the town. There is a whole street 'Odos Ipapantis' dedicated to jewellery and crafts shops. There is even a cable car which will take you down from the town a distance of 250 m to the foot of the spectacular cliffs. In the 70s the only way up or down was to walk, or more practically, take a donkey. This option is still open to those who seek a slightly more adventurous way to see the sheer magnificence of the rock-face.
Kamari Resort
Kamari is probably the most developed resort on the island. It is located on the south eastern coast and is famous for its black sand beach. It is l only 3km from the airport, but flights are all during the day, and few and far between. There are large numbers of eateries, bars, and clubs offering a wide variety of food and entertainment options.
The original ancient ruined capital of the island, also called Thira, is a steep one hour walk or a bus ride directly above the town. You can also drive a hire car up to the site but this twisting road with sheer drops is not for the faint hearted. Kamari also boasts an outdoor cinema which shows movies on a big screen at 9.30 every evening.
The small island of Santorini has a huge amount to offer anyone who really wants to get away from it all and relax while still benefiting from many modern comforts.