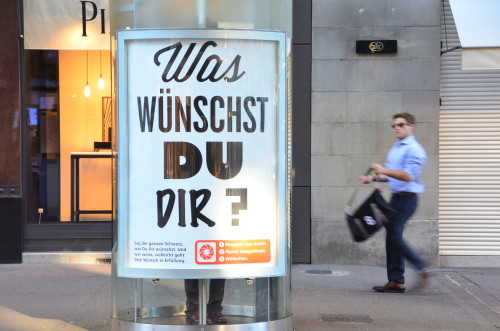 My recent visit to Switzerland was my fourth, so what I'm about to say might surprise you: I feel like I've only just gotten to know Zürich, the country's largest and, by some accounts, most important city.
The reason for this is simple. My best friend Bianca  is Swiss. Most of my forays into the center of Zürich prior to this trip — Bianca lives in a village about 15 minutes northwest of Zürich's Hauptbahnhof – have involved me following my friend like a little puppy. And, usually, a drunk one.
During this visit, however, Bianca was working full-time, which gave me ample opportunity to explore Zürich on my own.
Zürich has a reputation among travelers as being boring. There's no overarching narrative to this Zürich photo essay — I just hope you can appreciate stately "downtown Switzerland" as much as I now do.
My greatest embarrassment after three previous trips to Switzerland was the fact that I didn't particularly know my way around Zürich.
What I did know is that a large lake (aptly named Zurichsee) sits to the south of city, and that the Limmat River flows northward from the lake. I figured this was a good place to start.
Lake Zürich and the Limmat River are a good place to start not only for orienting yourself, but also for people watching. I have to admit: I'm not the biggest fan of swans, having encountered them up close and personal in the past. But I definitely enjoyed watching others feed them as the summer sun began its slow descent.
Switzerland is one of the most expensive countries in the world, and Zürich is perhaps the most expensive city in Switzerland. In some ways, Zürich is a New York for the super-rich, although the vast majority of the people who live and work here are not rich by local standards. Still, I found it oddly titillating (and maybe creepy?) to photograph obviously loaded Swiss-banker types doing normal shit.
But Zürich is by no means uptight. As is the case in much of the rest of Europe, public drinking is completely OK in Switzerland. Bianca and I, to be sure, have spent many an afternoon or evening lounging along one of Zürich's many waterways and enjoying a bottle — usually two or three — of wine. A tip: Buy your beer or wine at a local Coop supermarket for a cheap evening out.
What I grew to love about Zürich perhaps more than anything is how walkable it is. Although the metro region is quite large, particularly by Swiss standards, you can easily walk across the center of the city in 45 minutes. Or, if you want to be cool, take one of the city's iconic trams. And, if you want to be even cooler, bike.
I also love Zürich's subtlety. Now, I'm of course a fan of Europe's more ubiquitous cities (Rome, Madrid and Amsterdam come to mind), but not having a long list of landmarks that are necessary to see makes it easier to discover what Zürich truly has to offer, rather than having to seek out what Lonely Planet tells you is important.
This is not to say there aren't landmarks in Zürich: Grossmünster Cathedral, for example, dates back to the year 1220. But even Zürich's most conspicuous cathedrals, statues and other structures blend in among the stately cityscape, which makes wandering aimlessly (as I'm fond of doing in most cities I visit) an even more savory treat here.
I'm ending with a photo taken right at sunset — cliché, right? Trite or not, I think it's an apt illustration of why I grew so quickly fond of Zürich. The charm of Zürich is of course in the lake, and in its stately architecture and in the river that runs through it. But more than that, it's in the nearly-hidden details you'll only see if you're paying very close attention.