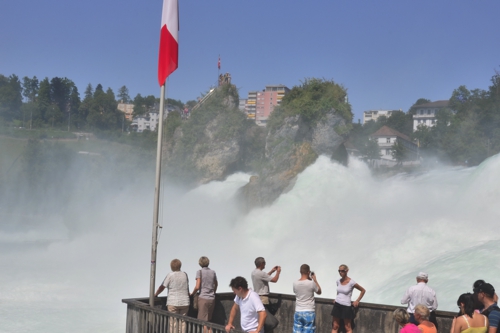 My best friend is Swiss, which has led me to spend an inordinate amount of time in the expensive mountain country, a destination that is often out-of-reach for backpackers.
Ironically, the fact that I have a "home" in Switzerland has also resulted in me not exploring the country as much as I tend to explore most places I travel – mimosas and marijuana in Bianca's garden usually win out over city strolls and cross-country train rides.
Last summer's visit to Switzerland, my fourth, saw me come out of my lazy shell a bit. I got to know the city of Zürich like never before, and returned to the Alpine village of Melchsee-Frutt, where I'd only previously been during the cold, rainy autumn.

A few days before I departed to Germany, I came across a stunning photo on the official Switzerland Facebook page, which depicted one of the most beautiful waterfalls I'd ever seen. "I have to see this before I leave!" I insisted to Bianca, and passed her the spliff. "Do you know where it is?"
She nodded, and took a deep inhale. "Let's do it!"
What Is Rheinfall?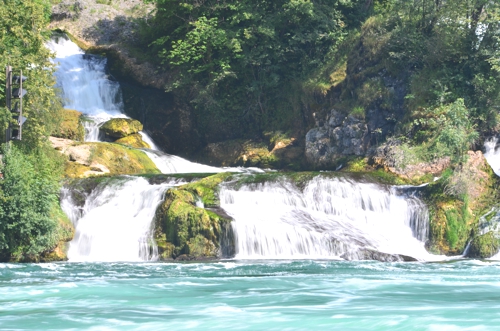 Rheinfall, which is technically known as "Rhine Falls" in English, is a 75-foot high, 450-foot wide waterfall located on the Rhine River.  With a water flow that averages between 250-750 m³/s, Rhein Fall is by most every measure the largest waterfall in Europe.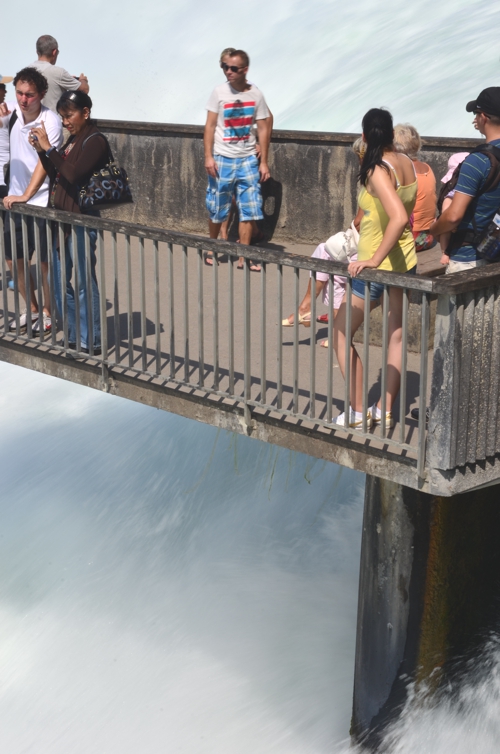 And Rheinfall is not simply large – it's also beautiful: The contrast of the blue-green color of the clear, clean water against the emerald hills that rise around it – the crisp red of well-placed Swiss flags notwithstanding – is breathtaking.
Where Is Rheinfall?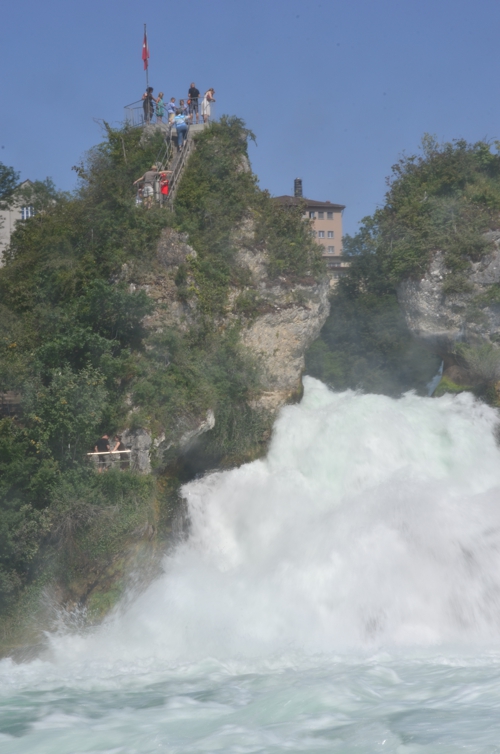 The closest major Swiss city to Rheinfall is Zürich, although the falls are technically located in the canton of Schaffhausen. They're also closer to the town of the same name than they are to Zürich.
If you aren't lucky enough to have a Swiss friend with a car – or ambitious enough to cycle to the falls, using Switzerland's omnipresent network of bike trails – take the SBB train to the Neuhausen am Rheinfall station.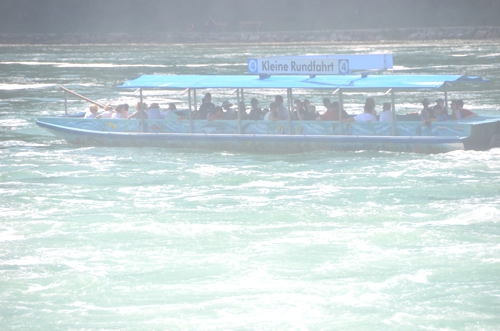 Although the Rhine River, for much of its length, separates Switzerland from Germany, Rheinfall exists exclusively within Switzerland – there isn't a "German side" or a "Swiss side."
What Can You Do in Rheinfall?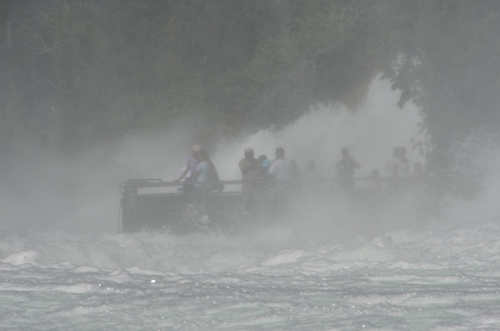 The most popular thing to do in Rheinfall is, not surprisingly, to walk down to a viewpoint at the base of the falls, where you can quite literally feel the thundering water roar underneath your feet.
To get even more up-close and personal with the falls, you can take a boat out into the Rhine River – although I warn you: You will get wet! Alternatively, you can take a tour of Schloss Wörth Castle, in the nearby town of Neuhausen am Rheinfall.