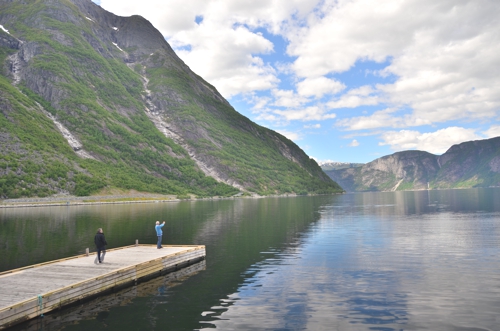 Western Norway has so much in the way of stunning scenery. There are labyrinths of trickling fjords and gushing waterfalls hidden in valleys that you didn't think was possible to squeeze down in a cruise ship, and the scenes will inspire anyone. A great way to explore the secret water warrens is by cruise as being on the water will allow you to fully appreciate the beauty and wonder that Norway has to offer.
The Geirangerfjord
'Wow' is the only word to describe this mind-blowing creek. It's like a fairytale, with its deep blue water and far-extending wall of green, snow-covered mountain peaks. Secret caves and wooded areas make this fjord so majestic, so it's no surprise that it's included in UNESCO's World Heritage list. It's located in the southwest part of the County More Og Romsdal, and is about 100km from the town of Alesund.
Make sure you experience the Seven Sisters waterfall; they're truly captivating and most tour boats run trips. If you don't suffer from vertigo then Ornevegen (the Eagle Road) is a must – it's the steepest stretch of road up the mountain side, turning eleven hairpin bends up from the Geirangerfjord to the highest point which is 620m above sea level. Fishing and kayaking are also popular pastimes.
The Sognefjord
The Sognefjord is the longest fjord adventure in Norway at 204km long and 1308m deep. It's not just about the waters – it extends inland to the national parks of Jotunheimen and Jostedalsbreen. Located in the southern area of the Sogn og Fjordane county, the Sognefjord area has 3,100 inhabitants.
Boat trips are particularly exhilarating in winter as the waterfalls freeze and you feel as though you're stuck in time. It's refreshing to say the least. To take it all in, it's recommended to make a trip to the viewpoint, Stegastein – you'll have a fantastic view of the surrounding mountains and can combine this with an excursion to the Prest Mountain. There's also a fjord safari which will allow you to see the fascinating wildlife up close.
The Hardangerfjord
The Hardangerfjord region is renowned for its summer skiing at Folgefonna glacier, and its incredible fruit tree blossoming in spring. It's located right in the heart of Fjord Norway, in Hordaland.
Hardangerfjord is a beautiful place to explore if you want to experience the village culture of this region. Sleepy, hidden villages and fishing towns are popular attractions, as well as the fruit tree blossoming in May – Hardanger is a major producer of fruit (apples, pears, cherries, plums, raspberries and strawberries) and so if you visit the 'Orchard of Norway' (as it's dubbed), during this time of year you're likely to see some of this lovely blossoming. Don't forget to check out the Folgefonna glacier if you're a keen skier; it's the third largest glacier on mainland Norway.
There's only so much reading up on glaciers, hidden creeks and inspiring routes to be done, so, to really make the most of this fascinating region – book a cruise and get out there!