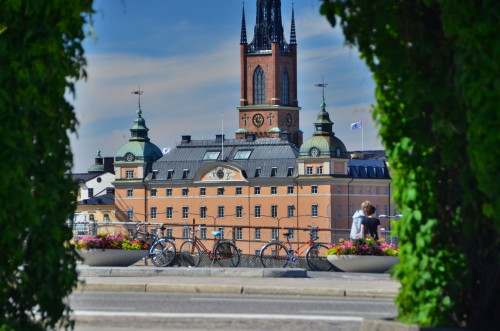 As corny as it might sound, it's very hard for me to keep it together as I write this: I fell in love in Stockholm. Or, more accurately, I fell in love with Stockholm.
After a long weekend I assumed would yield, at most, some amazing pictures, I would take a train to Sweden's Arctic Circle, where I would spend the remainder of my time in the land of ABBA, H&M and IKEA.
Unfortunately, bad advice from Swedish rail company SJ left me stranded in Stockholm. Initially bummed, I eventually experienced my own sort of Stockholm syndrome: I grew enamored with my captor city.
The Big Lingonberry
I can count on one hand the number of non-Swedes whose lips I've heard the word "Stockholm" pass across. Even the majority of Swedes had nothing of note to say about the city, other than it was beautiful and infested with foreign visitors.
I arrived in Stockholm last Friday to find a city that was indeed crawling with tourists, probably because it was just as beautiful as had been reputed. I'm a sucker for cities built into nature, so the fact that Stockholm is strewn across a series of islands sat well with me.
Architecturally, Stockholm puts many of Europe's other capitals to shame. The Swedes' cooperation with the Nazis (then referred to as "neutrality") spared Stockholm from the bombs of World War II, which probably explains why the entire city evokes another time.
But neither buildings nor scenery account for how otherworldly Stockholm feels. It's the NYC to Scandinavia's USA, yet even as catchy as a name like "The Big Lingonberry" sounds, Stockholm is more substantive than even a large helping of Sweden's iconic fruit aka lingonberries.
Södermalm: Hipsterville, Sweden
As much as I initially loved Stockholm, let's face it: My stay there was never meant to be anything more than a layover. I felt genuinely upset when I found out I wouldn't be able to visit Sweden's Arctic Circle, on account of inaccurate information from an official source no less.
Not wanting to sulk in my near-empty hostel, I headed south from Gamla Stan, Stockholm's charming "old town," and over the wate into commercial Slussen. At some point, I began making my way up a hill into a neighborhood I would later find out is called Södermalm.
If Stockholm is the New York of this region, then Södermalm is its Brooklyn: One of the first sights you see heading south on trendy Skaborgsgatan is an American Apparel store. Allergic to hipsters? Don't worry — they're but the tip of Södermalm's iceberg.
The charm of Södermalm is that in spite of the decidedly contemporary occupants of its stately buildings, strolling its streets still transports you back hundreds of years. Think 21st century nightlife and dining; 18th century ambiance.
Until We Meet Again, Stockholm
Stockholm, for my money, is an even cooler city than New York. It's got as much pulse and energy as you'll find between Astoria and the Bronx; the sheer grandeur and elegance of its construction top even the tallest Manhattan skyscraper.
To be fair, the fact that Stockholm is freezing cold eight months out of the year precludes me naming it Europe's best city. Good weather is non-negotiable for me; and even as Swedes celebrated the arrival of summer, the scene outside evoked a Texas winter.
My departure imminent, I know feel that my twice-as-long-as-scheduled stay in Stockholm was much too short. Sure, I'm stilled bummed about missing out on the Arctic Circle, but the fact that I didn't even have time to venture into Stockholm's 30,000-island archipelago is just as saddening.
My Milan-bound plane has just arrived at the boarding gate and of course, I'm excited about my upcoming Italy adventure. But I'm not going to lie: Being held hostage has never felt so good.