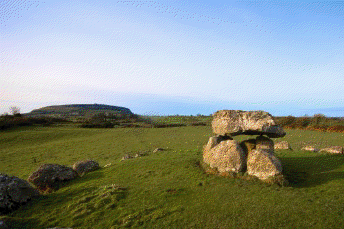 William Butler Yeats once said, "In Ireland, this world and the world we go to after death are not far apart." Ireland has certainly seen its share of tragedy, from famines to wars to strife between Catholics and Protestants.
Since death was historically such a part of life in Ireland, consider spending part of your domestic holiday visiting two prehistoric cemeteries. Carrowmore in County Sligo and Loughcrew in County Meath are two of Ireland's oldest resting places for the dead. Enjoy the hospitable accommodations at Sligo hotels before setting off on your journey to the tombs of old.
The Megalithic Cemeteries of Ireland
The grand stone megalithic cemeteries of Ireland number into the thousands and date back to as early as 4000 B.C. Megalithic grave chambers, commonly called "cairns," are artificial and freestanding caves created from slabs of stone. The chambers are then covered by heaps of stones serving three purposes: to stabilise the structure, to visually define the monument and to provide a step from which to gaze at the horizon.
The chambers were oriented to heavenly bodies, particularly the sun and the moon. Some cemeteries hold very few bones, suggesting prehistoric Irish utilised cremation to dispose of remains. Still other experts, like archaeologist Richard Bradley, suggest the cairns had a ceremonial significance as well as a purpose as interment chambers.
Carrowmore, County Sligo
Carrowmore is Ireland's largest megalithic cemetery. Once consisting of over 200 stone mounds, the ravages of the elements as well as academic looting have reduced the number of identifiable tombs to around 50. According to legend, Carrowmore was created after the Battle of Moytirra, where the Tuatha De Danann defeated the Fir Bolgs. Listoghill, the central monument, dates back to 3600 B.C.
Carrowmore lies southeast of Knocknarea, which is thought to contain the largest unopened Neolithic tomb in Ireland. According to historians, Knocknarea was a place for rituals and also served as a meeting ground. Knocknarea has several nicknames including, "Meave's Cairn" and "Hill of the Executioners." In Primrose Grange on Knockarea's slopes, scientists have carbon-dated material back to 7490 B.C.
The remaining tombs in Carrowmore consist of small-passage tombs and dolmens. Passage tombs are passageways surrounded by stones consisting of one or more graves while dolmens are two large stones capped with another large stone usually housing only one grave. One of Carrowmore's largest tombs is also one of the earliest versions of the passage tomb, created in a cruciform shape.
A restored cottage on the grounds serves as a visitor's centre and a 45-minute tour of the cairns costs three euros. Take Bus Eireann from Sligo town to Carrowmore every day except Sunday. You can also follow R292 toward Strandhill from the town centre.
Loughcrew, County Meath
The Loughcrew Cairns have another name: the Hill of the Witch. According to legends, the witch jumped from hill to hill, dropping stones from her apron that formed the cairns. After she jumped to three hills she started to jump to the fourth where dropping a final group of cairns would give her great power. Instead, she fell and was killed. Supposedly, she was buried on Patrickstown Hill where she died.
Loughcrew was built around 4000 B.C. and some speculate the cairns, in addition to serving as tombs, may also comprise the world's oldest calendar. Some archaeologists even believe Loughcrew may hold the world's oldest existing dwellings.
Visitors to Loughcrew will find two groups of cairns. The first group, Carnbane West, contains about 15 cairns. One of these, Cairn L, is roofed and covered with symbolic carvings. Carnbane East contains another roofed cairn, Cairn T, featuring beautiful Neolithic carvings. On both the vernal and autumnal equinoxes, locals gather in Cairn T to see the sunlight illuminate the chamber and the carvings. Unfortunately, Loughcrew's exposed cairns have been eroded by acid rain — which has destroyed many of the carvings.
To get to Loughcrew, contact Bus Eireann or take R163 to find Loughcrew about 3 kilometres (8 miles) east of Oldcastle.
Guest Post By Owen Mallon