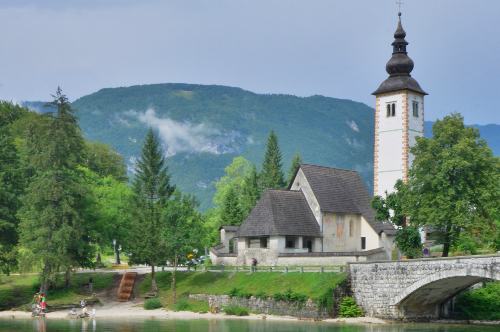 I have traveled to Europe an inordinate number of times — seven, to be specific, as of November 2012. More than a few friends of mine, even non-travelers, have questioned me for this: "Why do you keep visiting the same old places?"
The simple answer? I don't! Although I have a few European cities and countries that are always a priority — Switzerland for example since my best friend is Swiss, I make a point of switching up my European travel itineraries to keep things interesting.
Whether you're traveling to Europe for the first time or the 10th time, considering visiting some of my favorite alternative European destinations for a Eurotrip that'll make even your well-traveled friends jealous.
1. Slovenia
If you love the charming alpine scenery of countries like Switzerland and Austria, but don't want to pay the steep prices typical of Zürich or Vienna, consider traveling to Slovenia. In addition to the fact that its capital, Ljublujana might be the most charming European city, Slovenia's small size puts massive caves, neon-blue lakes and even Mediterranean port towns within easy day trip range.
2. Stockholm
Stockholm, I declared to Swedish friend Christian upon meeting up with him this past June, is like a classier, less-bombed version of Berlin. Although it's true that Stockholm is a relatively expensive city, you definitely get what you pay for. Whether you step back in time in old town Galma Stan, get your hipster on in super-cool Södermalm or simply revel in the fact that the city is situated on series of hilly islands, I strongly recommend you visit Stockholm.
3. Portugal
Portugal was one of my biggest travel surprises. I expected it to be more like Spain since it's completely surrounded by Spain; I expected it to be poor because of the media focus on its apparently bad economy; and I expected it to be a one-trick pony due to its small size. None of these things are true! From the wine region to Lisbon, with its terracotta roofs and sparkling riverfront, Portugal is a place I'll definitely be returning.
4. Ischia
"I hope you don't mind," my friend Francesco told me after I arrived in Naples, "but we won't be going to Capri. It's full of tourists, commercial shops and worst of all, it's expensive." Instead he took me to Ischia, a less-developed island an hour or so north of Capri. Ischia's got it all, from rocky, scenic beaches with sparkling, clear water, to hillside gardens with panoramic views — and, of course, amazing Italian food.
5. Bruges
Belgium, for better or for worse, is not a place I hear many positive things about. Bruges is probably my favorite city in Belgium, I haven't even seen it! Climb the central belfry for a panoramic view of the city, take a boat ride through its many canals or board a train to seaside Oostende. A Dutch-speaking city, Bruges is sort of like Amsterdam.
6. Tel Aviv
Tel Aviv is not in Europe, technically or otherwise, but it's close and easily-accessible enough from Europe that I thought I'd include it in this list. Moreover, Tel Aviv combines a European level of development and sophistication, with a more exotic Middle Eastern flair.
7. Dresden
Dresden is less than two hours away from Berlin, but it truly couldn't be more different — you know from the moment you see the solid gold statue of Augustus, the flamboyant, Baroque-era emperor of the former Kingdom of Saxony, that you're in for a spectacle. Dresden was the worst-bombed German city during World War II, but much of its incredible architecture still stills, even if it is soot-covered. Dresden left me speechless.