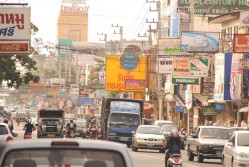 When we travel, some of us love the excitement of seeing a world-famous site, while others lose themselves off the beaten track and still others prefer tasting foreign culinary delights. What most gives me a feel for where I am, however, is the means of transport I use to explore a foreign city.
Here are a few favorite ways to tour a city I've encountered traveling around the world, many of which typify round-the-world (RTW) travel experience.
Tuk Tuk (Bangkok)
A pint-sized tuk tuk is a brilliant way to tour a city, maneuverable and nippy in an environment where larger vehicles struggle to maintain speed. Although the tuk tuk is common in much of Southeast Asia, it is most ubiquitous in Bangkok.
Thanks to Bangkok's haggle-friendly environment and cheap cost of living, you will quickly be able to negotiate an inexpensive, personalized tour of Bangkok's most popular attractions. An additional bonus is the enjoyment of the ride: The open sides, comfy seats and cavalier driving style make this an exciting way to buzz around Bangkok.
Tram (New Orleans)
It's hard to pick out an example of great tram touring cities, not due to a lack of contenders, but rather because of overabundance. The United States is a strong contended here, with Canal Street in New Orleans coming out on top as far as I'm concerned.
The straight line down Canal Street takes you from some of the most run-down areas affected by flooding to the vital, beating heart of this culture rich city. Of course, stark contrasts like these are often just as important to our experiences in cities as glitz and glam.
Cable Car (Rio De Janeiro)
Many of the world's most-visited cities have iconic viewpoints. The London Eye, for example, is one of the newest, while New York City's Empire State Building is a well-established attraction. Rio de Janeiro's Sugar Loaf cable car goes a step beyond either of these, become more a city tour than a simple viewpoint as it ascends.
While some travelers might not consider viewing a city from the air really touring it, this incredible cable car enables you to take in Rio's famous beaches, mountains and bay all at once. No bus, taxi or guided walk will offer you such a grand, panoramic view.
Gondola (Venice)
Pick up a picture of a Gondola and you'll know you're looking at Venice, or the knock-off Venetian Hotel in Las Vegas. In the case of the former, there is perhaps no better way to explore Venice than taking a gondola ride around the city.
The gliding sensation you experience on the water is unlike any other form of city transport. Not only do you avoid traffic jams, but it feels like you've stepped into another time as you float past the stunning architecture found here. It's an expensive way to travel in Venice, but prices are the same for groups as they are for individuals and it's cheaper during the day.
The best way to experience a gondola ride is to avoid taking one on your first day. Getting to know Venice and planning where you want the Gondola to take you makes your ride much more enjoyable. As a point of advice, the back canals are the best locations to avoid heavy traffic and appreciate the laid-back style of gondola travel.
Walking Tour (Sydney)
There's nothing location-specific about walking — I'm pretty sure you've done it before. Having said this, if you want to travel like a local, then this is one of your best options. You may not cover as much ground, but you increase your chances of stumbling upon local charm and also develop a sense of direction in your city.
If you travel to Sydney, Australia, you can sweeten the deal by taking a walking tour of the city, which ensures you see all the city's best attractions, like the Sydney Opera House, the Harbour Bridge and Darling Harbour. The best thing about taking a walking tour in Sydney is that some of them are free, a rarity in this expensive city.
Open-top Bus (London)
Double-decker buses can be found all around the world, both as tour buses and local transport, but there's no better place to hop aboard one than in London. Even if you're the sort of person who likes to avoid looking like a tourist, you should make the birthplace of the double-decker bus an exception to this rule.
Although London in my opinion is most easily traveled via its "Tube" subway system, you should take at least one double-decker bus ride through the city to avoid missing out on stunning, iconic sight you'd miss from underground. If you don't have the time to wait for a public double-decker bus — and they can be extremely slow and require a long waiting time — you can book an organize double-decker bus tour of London, although the cost can be excessive.
This is a guest post from fellow traveler and blogger Matthew Nunn.