As I was planning my recent trip to Taiwan, my biggest surprise was the difficulty of incorporating Taiwan beaches into my itinerary. In fact, it was hard to find information about beaches in Taiwan at all, save for generic mentions of Kenting National Park and attractions near Taipei like Yehliu Geopark (home of the iconic "Queen's Head" rock formation).
It took some extremely deep digging to overcome this unexpected hurdle, a hassle I'm happy to be able to alleviate for you. Here's the 411 on the best Taiwan beaches, including how to incorporate them into your larger Taiwan trip plan.
Taiwan Is An Island, But…
Whether you've decided to bike Taiwan or rent a car (I'll talk more about transport options in a few paragraphs—not to worry), one common belief is that since Taiwan is an island, there must be no end to the number of beautiful beaches it has. There are several problems with this theory, however, and not just the fact that Taiwan's entire west coast is industrialized.
To be sure, while most of Taiwan's East Coast between Hualien and Taitung is absolutely gorgeous, the majority of these beaches are far more beautiful to look at (or surf at) than they are safe for swimming. Further compounding these problems are the fact that beach hotels in Taiwan leave a lot to be desired. If you think you can get past these issues, then please continue reading.
The Best Taiwan Beaches
Taimali Beach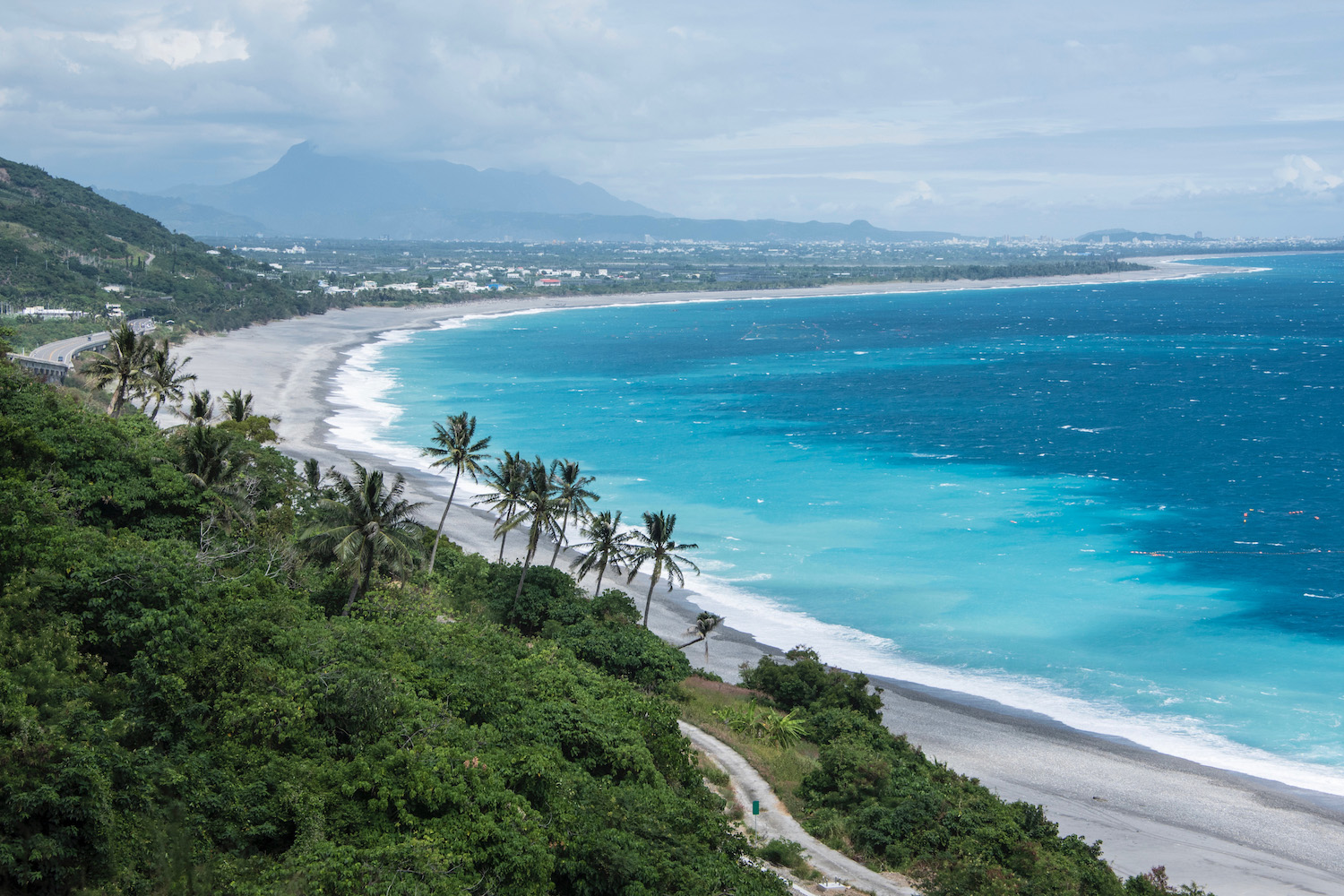 For my money, Taimali Beach is the most beautiful beach in Taiwan. Located about a half hour south of Taitung on the way to Kenting, this beach gave me straight up Hawaii vibes—it's that beautiful! It's probably the only place I stopped along Taiwan's East Coast where I wish I could've spent more time, though this would've been in vain: The surf here was rough, and seemed to riptide-prone even for sunbathing!
Fengchuisha
When it comes to beautiful Taiwan beaches that are actually within close proximity to Kenting National Park, Fengchuisha is probably the best example. Located along the road from Jialeshui (which is not all that—more in a second) to the "Southernmost Point in Taiwan" monument, this viewpoint is dramatic and beautiful, though more than a little windy. Bad hair day? No problem!
Qingshui Cliffs
As it pertains to the part about visiting Taroko Gorge from Taipei, Qingshui Cliffs are probably the most beautiful beach near Taipei. Whether you see them as an excursion from the capital or as part of a more comprehensive trip, do keep in mind that—the clue is the name—this Taiwan beach is once again not really a place to swim.
Sanxiantai
One of the major touchstones of my Taiwan road trip, and the first named place I stopped along the country's East Coast, Sanxiantai was certainly a standout. Often referred to in English by the over-dramatic moniker the "Platform of the Three Immortals," this hideous bridge somehow manages to look amazing in its surrounding, which tells you just how beautiful said surroundings are.
Taiwan Beaches to Avoid
I mentioned Kenting National Park in the intro to this post, but not a great deal since then—this is not coincidental. Even if you disregard the fact that Kenting's main beach literally has a nuclear power plant rising over it, the fact is that Kenting's beaches are average at best. (I'm looking at you, Kenting Baishawan—and yes, Jialeshui, at you too.)

On the other side of the island, Fulong Beach can definitely not be listed among the best Taiwan beaches. It is convenient, on account of its proximity to Taipei, and is appealing if only because of its annual sand castle building competition. But personally, I wouldn't waste the energy of going there unless you like severe disappointment.
How to Reach Taiwan's Best Beaches
Being that most beautiful Taiwan beaches are on Taiwan's East Coast between Hualien and Taitung (i.e. the part of the country least accessible via public transport), you'll almost certainly need to rent a car—that's the bad news. The good news is that if you don't mind driving several hours a day, you might only need to keep this vehicle for a few days of your total trip.

Specifically, after starting my Taiwan itinerary with a full day in Taipei, I picked up my car and drove to Jiufen, stopping at Qingshui Cliffs en route to Hualien. On day three I drove from Hualien all the way to Kenting—this was the main Taiwan beaches portion of my trip. On day four I made the short trip from Kenting to Kaohsiung, where I dropped the car off and continued on my merry way.
The Bottom Line
Not all Taiwan beaches are created equal—and some just aren't very good. For one, many of the best beaches in Taiwan are far from Taipei, and are outside the boundaries of the famous Kenting National Park whose coastline leaves a lot to be desired. With a bit of forethought, and the understanding that Taiwan's beaches are much better for photography (and surfing!) than they are far swimming, you can have a fantastic time along the Formosan coastline.