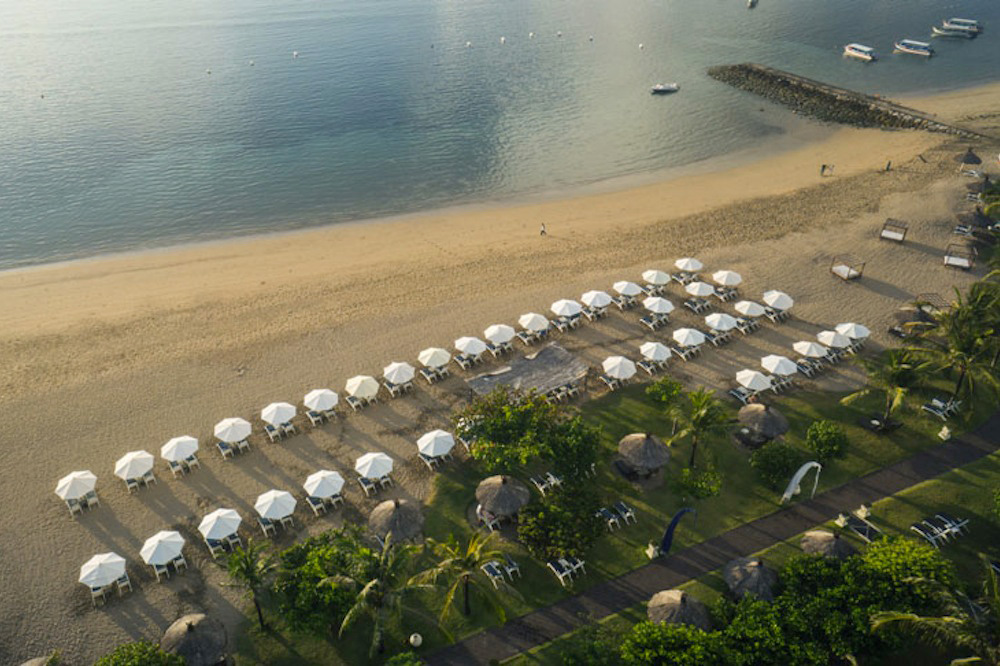 The five-star Bali resort, Grand Mirage Resort & Thalasso Bali, is exquisitely situated on the beige powdery sand-beach pointing the azure Indian Ocean. It is renowned as a leading resort that delivers unbeatable all-inclusive experiences. Once you book the all-inclusive package, you will enjoy the cozy room, appetizing food, fresh drink, fun activities, and relaxing spa treatments.
The Room
There are 301 rooms and suites in the four-storey building. All are tastefully designed with typical Balinese decoration. You can choose the garden vista of Deluxe Garden View Room or the ocean panorama of Deluxe Ocean View Room. Both of them are exceptional. Those two categories of rooms measure 42 sqm with either double or twin bed. If you prefer a bigger room, you can stay at Ocean View Suite. The suite is 80 sqm with separate seating area.
Are you traveling with your family or your couple? This resort provides special rooms for both couple and family. Romantic Ocean View Room is purposely for couple. The room is appointed with a double bed with canopy. For a family holiday, Grand Mirage Resort & Thalasso Bali features Family Ocean View Suite- a spacious suite with two king-size beds.
The Food & Beverage
This leading resort offers 3 restaurants and 2 bars plus 24-hour room service. The all-inclusive package allows the customers to taste the dishes in those restaurants and selected beverages in the bars. What a paradise for foodies! There is a 24-hour restaurant, Grand Café that offers awesome view of the pool and the sea. The Italian food lovers can grab a seat in La Cascata which is open only for dinner. Another restaurant is Jukung Grill- an al fresco restaurant on the beach serving grilled meat.
If you love to soak in a swimming pool while sipping the cocktails, Coconut Pool bar is a perfect spot for you. This swim-up bar offers fresh juices, mocktails, and cocktails. On top of that, there is Panorama lounge in the lobby level with a vision to the ocean.
The Activities
Grand Mirage Resort & Thalasso Bali offers miscellaneous activities from sports to cultural activities. For those who long to explore the sea, water sport like Seawalker, catamaran, will suit you well. The culture traveler will love janur weaving, Balinese cooking class, and Balinese costumes.
The Spa
Thalasso Bali Spa is renowned with its unique treatments that apply oceanic elements such as seaweed and seawater. The signature treatment of this spa is aquamedic pool- a 380 sea water pool. The pool is equipped with jets that will press several points of the body and bring you to a notable relaxing moment.