Several years ago I hatched an ambitious idea: One day, I would watch Japan's entire sakura season unfold, from the first Okinawan buds in January until late May, through the time that the cherry blossoms peak and when the last petals fall from trees in northern Hokkaido.
There were many problems with this idea, first among them that Japan only permits foreigners to stay for up to 90 days at a time. The idea stuck with me nonetheless, in particular one piece of it: I needed to make my maiden voyage to Okinawa, the only region of Japan I'd yet to explore, during cherry blossom season.
Why You Should Avoid Okinawa During Cherry Blossom Season
Before I get to the reasons you should see Okinawa cherry blossoms, allow me to be completely real: My desire to visit Okinawa during sakura season blinded me. I was so fixated on seeing them that I didn't fully accept how cold Okinawa would be during late January and early February, when (a limited number of) cherry trees explode to cover (a limited number of) the streets of Naha and outlying hillsides in cotton-candy pink.
The text within parentheses might seem cynical, but it's true: The visibility of the cherry blossoms festival Okinawa is extremely limited, compared to all of Japan's four main islands. Unless you go to specific places (or, within Naha's city limits, pay very close attention), you might not even notice the blossoms (which are a different species here, and in some instances look identical to plum blossoms in other parts of Japan).
Likewise—and I cannot stress this enough—Okinawa is mostly grey, usually rainy and near-freezing cold during the winter. This is a trade-off you'll almost certainly have to make to see cherry blossoms here. Please make peace with it before you board your flight!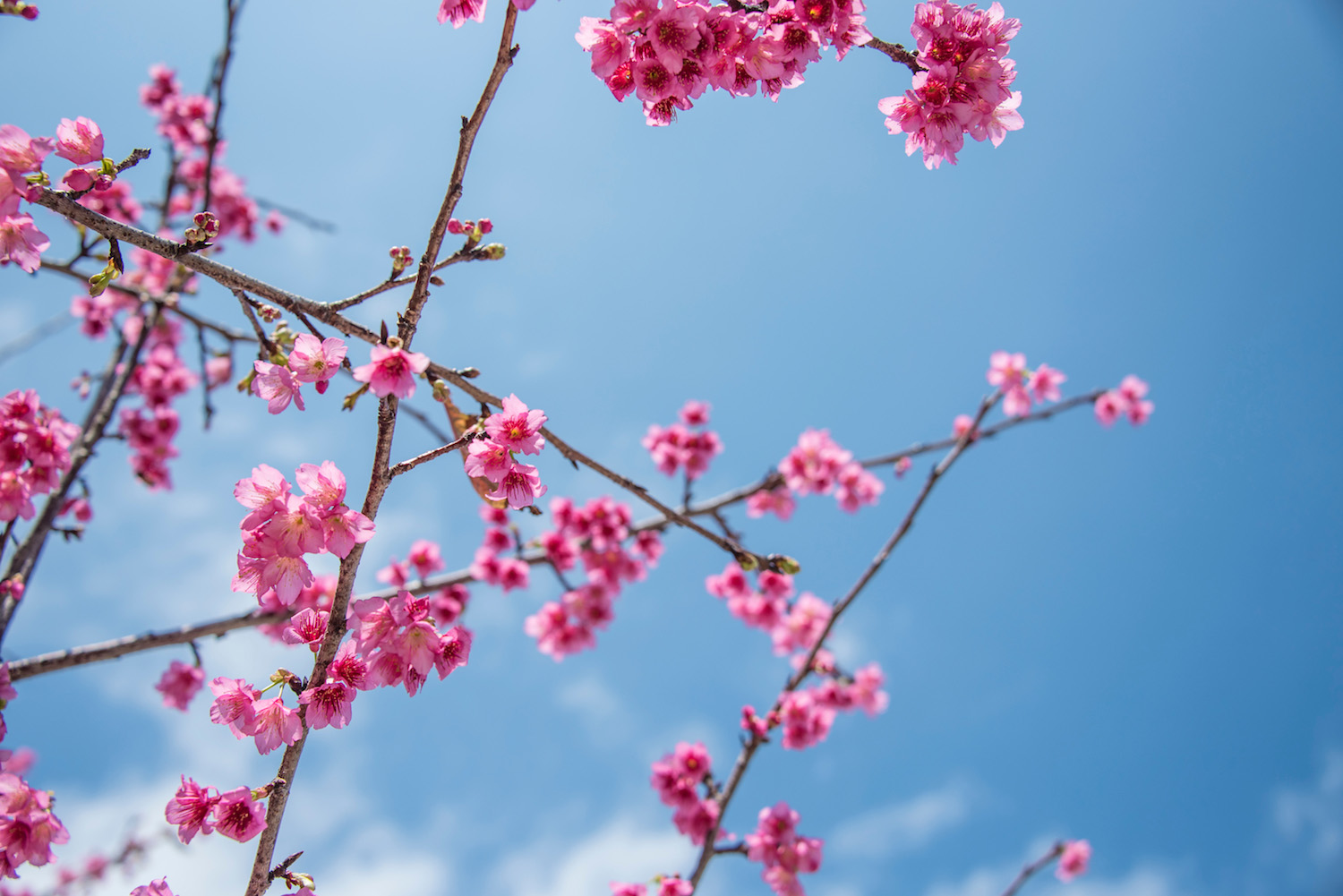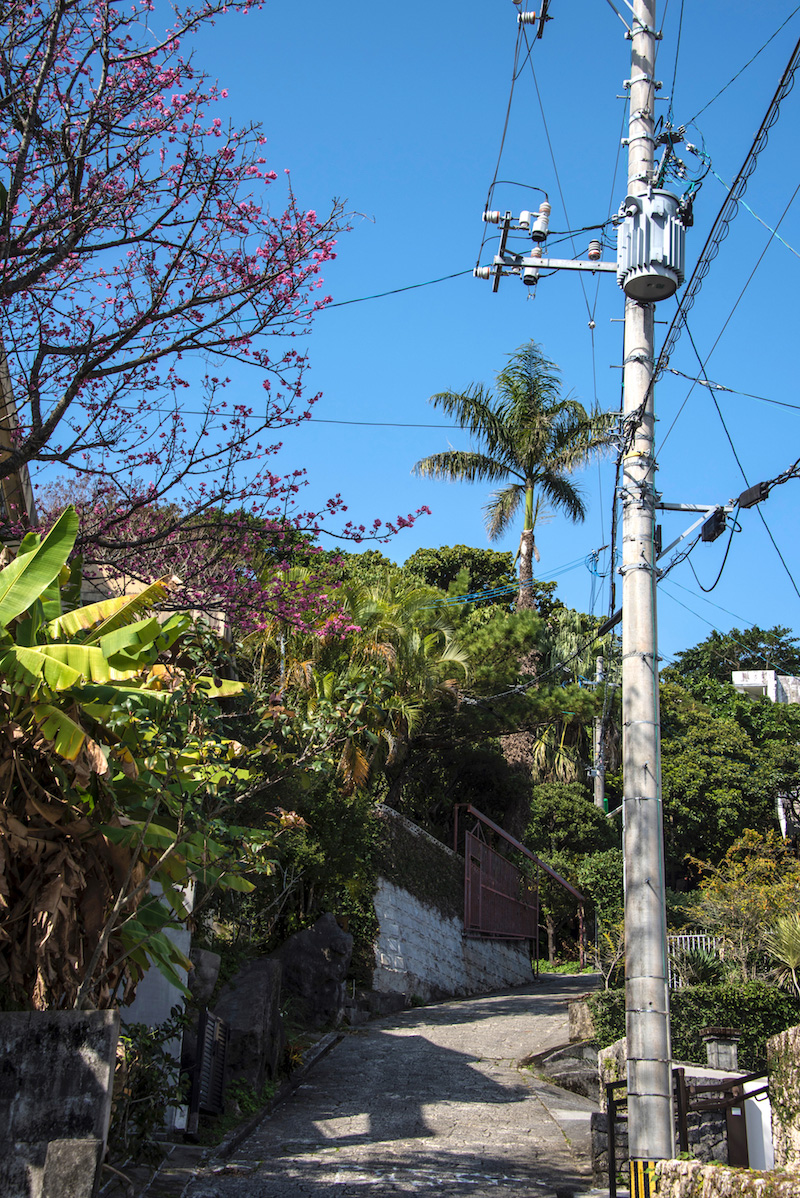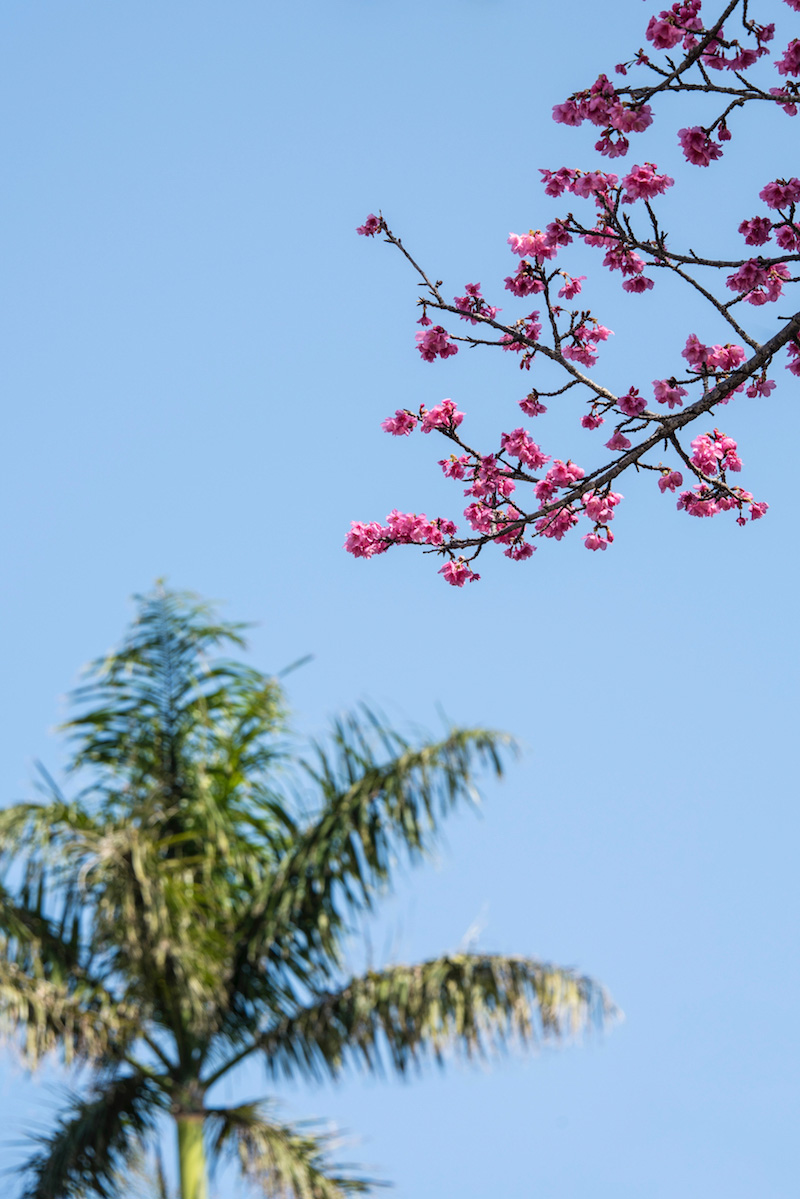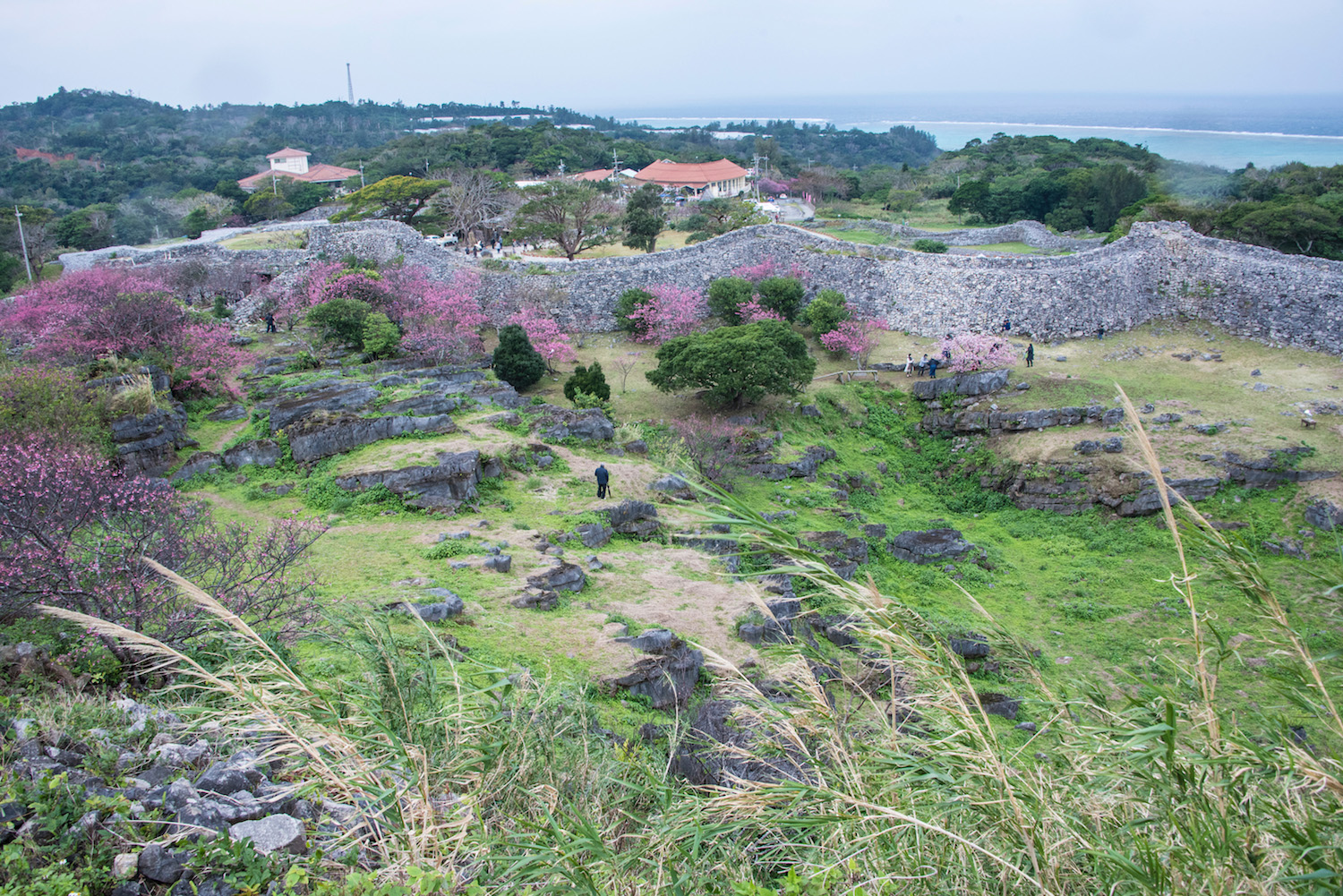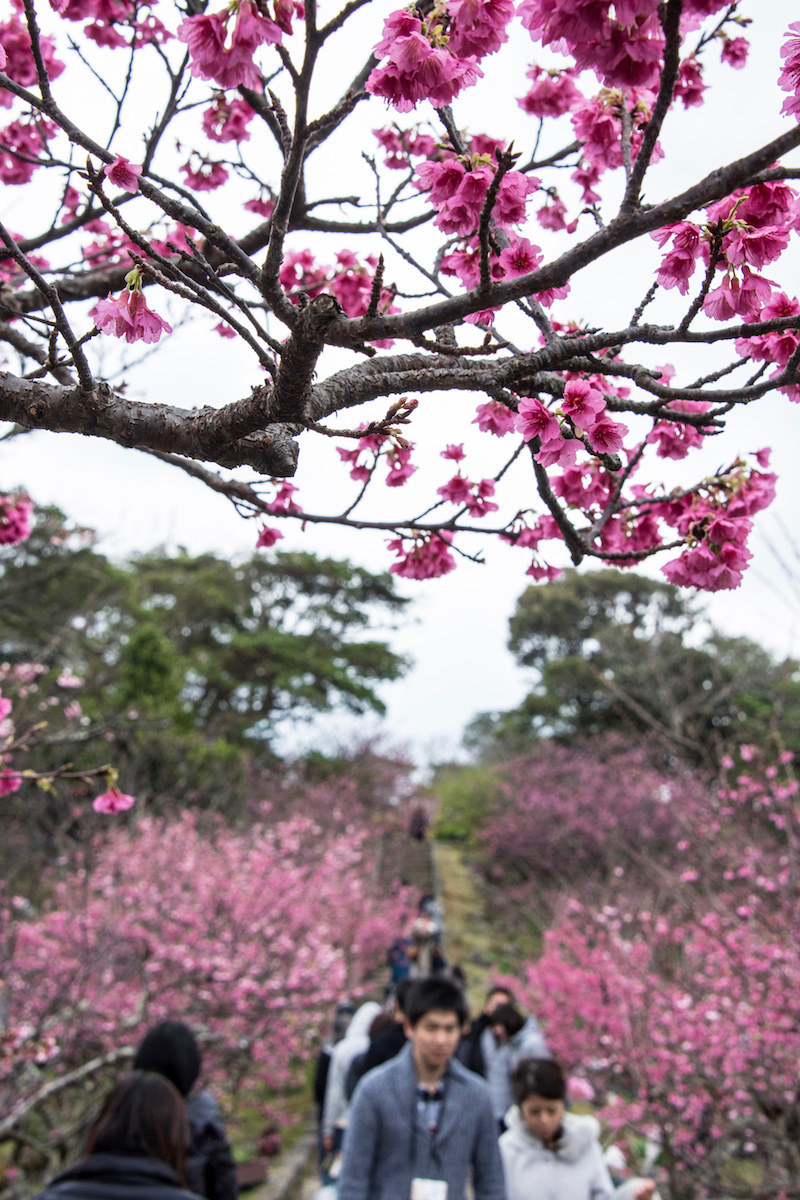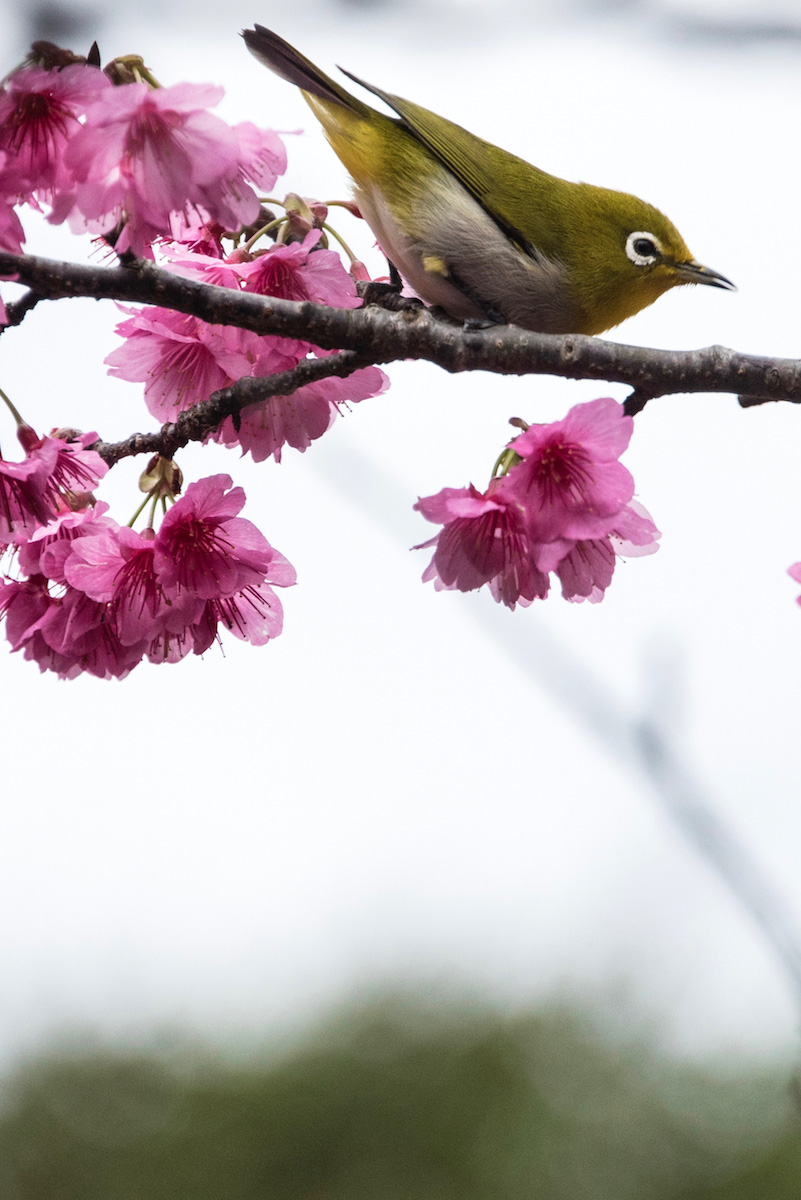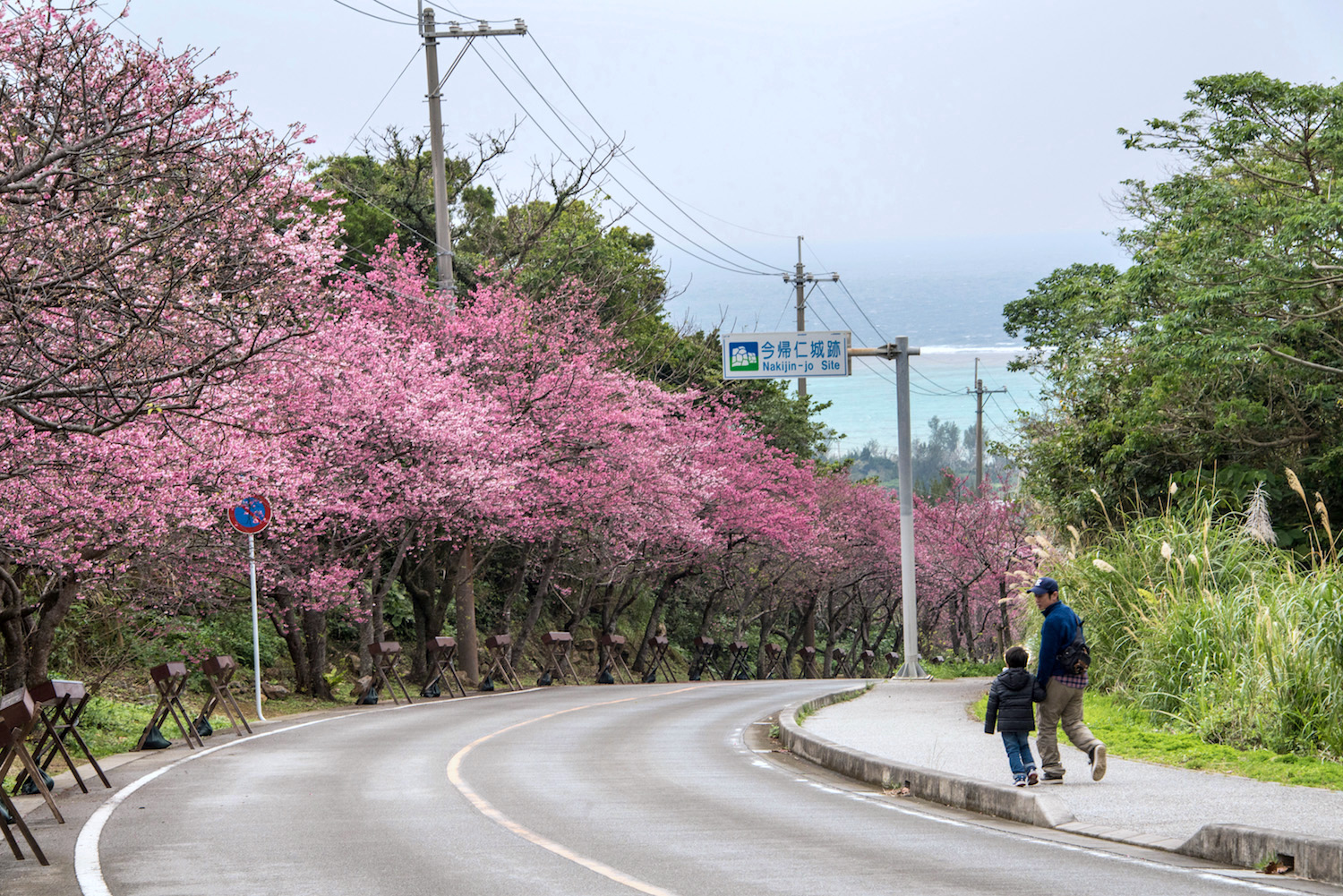 Where to See Cherry Blossoms in Okinawa
Certain places in Naha city notwithstanding, the most scenic place to see sakura in Okinawa is at the Nakijin Gusuku Cherry Blossom Festival, which not surprisingly takes place at the ruins of Nakijin Castle. There are a couple dozen cherry trees within the ruins themselves, but the most impressive display is arguably along the serpentine road that winds up to them.
Another popular place to see sakura on Okinawa's main island is at the Motobu Yaedake Cherry Blossom Festival, although this is slightly less convenient to the city than Nakijin. As far as Ishigaki? I did see one or two cherry trees there, but hanami simply doesn't seem to be much of a thing in the rest of the former Ryukyu Kingdom.
Okinawa Cherry Blossoms in the Future
Sakura trees in Okinawa usually bloom at the same time, to the extent that the archipelago is rarely included in the national forecast. While you can keep an eye out for the 2019 cherry blossom forecast, to be released in January 2019 (the 2020 cherry blossom forecast will follow a similar pattern and so forth), Okinawa cherry blossoms will almost certainly be at their peak during the first week of February, no matter the year.
In other words, cherry blossom forecasts are useful mostly for sakura in Hokkaido, Kyushu, Shikoku and especially Honshu, which the flowers are more temperamental.
The Bottom Line
Seeing Okinawa cherry blossoms is beautiful, but it does require some sacrifices. Cherry trees aren't as widespread in the islands of the former Ryukyu Kingdom as they are in the rest of Japan, and the weather here will be extremely cold—far colder than empirical data would suggest. If you do decide to travel to Okinawa during sakura season, make sure you've fully come to terms with these realities. Be sure to check out our Japan page for more.