I was eager to begin my journey from Guilin to Yangshuo almost immediately, much as I expected I would be. The former doesn't have a great reputation, apart from being a gateway to the latter.
Still, I didn't board a direct bus from Guilin airport to China's increasingly famous mountain town. My dear Malaysian friend Wei Le in tow, I headed into the center of Guilin—and a secret weapon was waiting for me.
"I have to hand it to you," Wei Le beamed as we arrived at our hotel just opposite the famous Sun and Moon Pagodas. "You definitely chose the best place to stay in Guilin."
Lit Up in Silver
Or so I thought it was. However, just before finalizing mine and Wei Le's stay in a River View Suite at Li River Hotel, Booking.com had switched to Mandarin, accidentally confirming a City View Double in the process.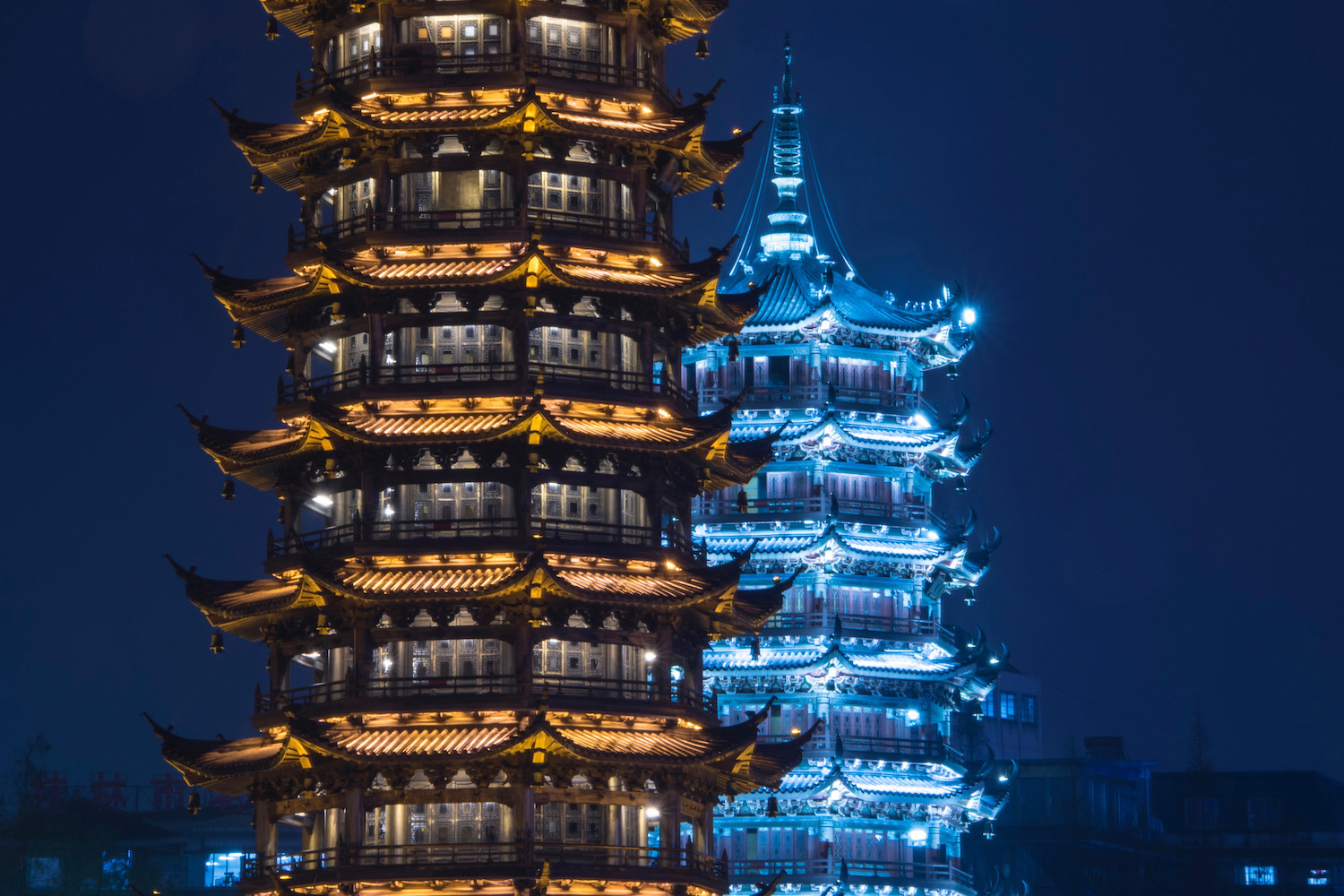 My explanation of this initially fell on deaf ears—the receptionist, who had been kind enough to escort us to our room, seemed shocked that we didn't enjoy a Guilin view that looked directly into an apartment behind the hotel. Thankfully, after complaining in two languages (Wei Le helped me, somewhat reluctantly, in the Chinese department), the manager offered us a "free upgrade" to the room I thought I'd booked in the first place.
Thankful but frustrated, we mad a beeline for Nang Ren Temple. By the time we returned from our vegan buffet lunch, the grey of the mid-day sky had darkened to purple, and the pagodas were lit up in silver and gold. Still, both of us concluded that while we were ultimately satisfied with Guilin, Yangshuo was really where we wanted to be.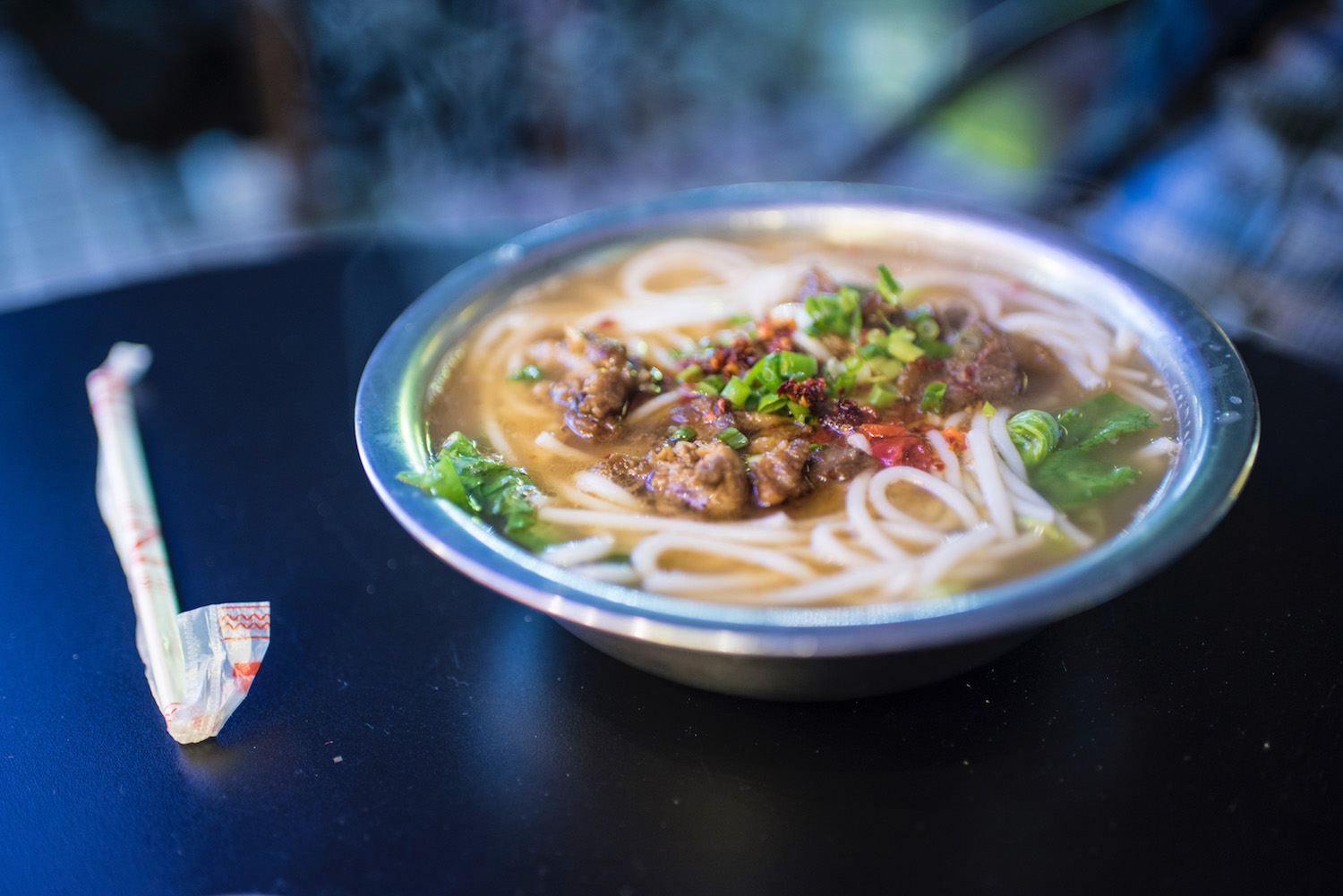 "Although," I conceded to Wei Le after our Guilin rice noodle dinner, as we walked underneath the namesake cascade of Lijiang Waterfall Hotel, "I can't imagine Yangshuo has one of these."
Panorama of the Karsts
Sunny weather in Yangshuo (or at least my anticipation of it, based on forecasts) had been another means by which I inoculated myself against the bummer of Guilin. Unfortunately, this illusion came crashing down right around the time I realized the cute young man serving us at charming MingYuan Cafe was a woman.
"Looks like the gloom followed us from Guilin to Yangshuo," I moped to Wei Le, who was having none of it. If anything, my pessimism made him more eager to go ahead with our existing plans, even if he was far less eager to hike than I was.

(This proved particularly true as we neared the precipice of Xingping's Lao Zhai Shan, whose well-maintained steps give way to jagged rocks about 90% of the way up.)
Wei Le's exhaustion notwithstanding, our ascent significantly lessened the SADness I'd been feeling. Taking in a panorama of the karsts topped my list of what to do in Guilin, and it lived up to my expectations, even if the skies over the mountains had been less than photogenic.
Romanticized Expectations
Although it didn't have a waterfall-shrouded hotel like Guilin, Yangshuo was actually pretty happening once night fell. The panorama Wei Le and I enjoyed from the terrace of Cloud 9 Restaurant was surprisingly neon-bathed, and compensated nicely for how flavorless our dinner (save for the Sichuan peppers in the gān biān sì jì dòu) was.
I awoke the next morning to run at my usual time, then got back into bed and lazed until it was time to sample River View Hotel's extraordinarily filling breakfast. Wei Le and I felt satisfied, our Yangshuo climbing completed and our proverbial money shot taken.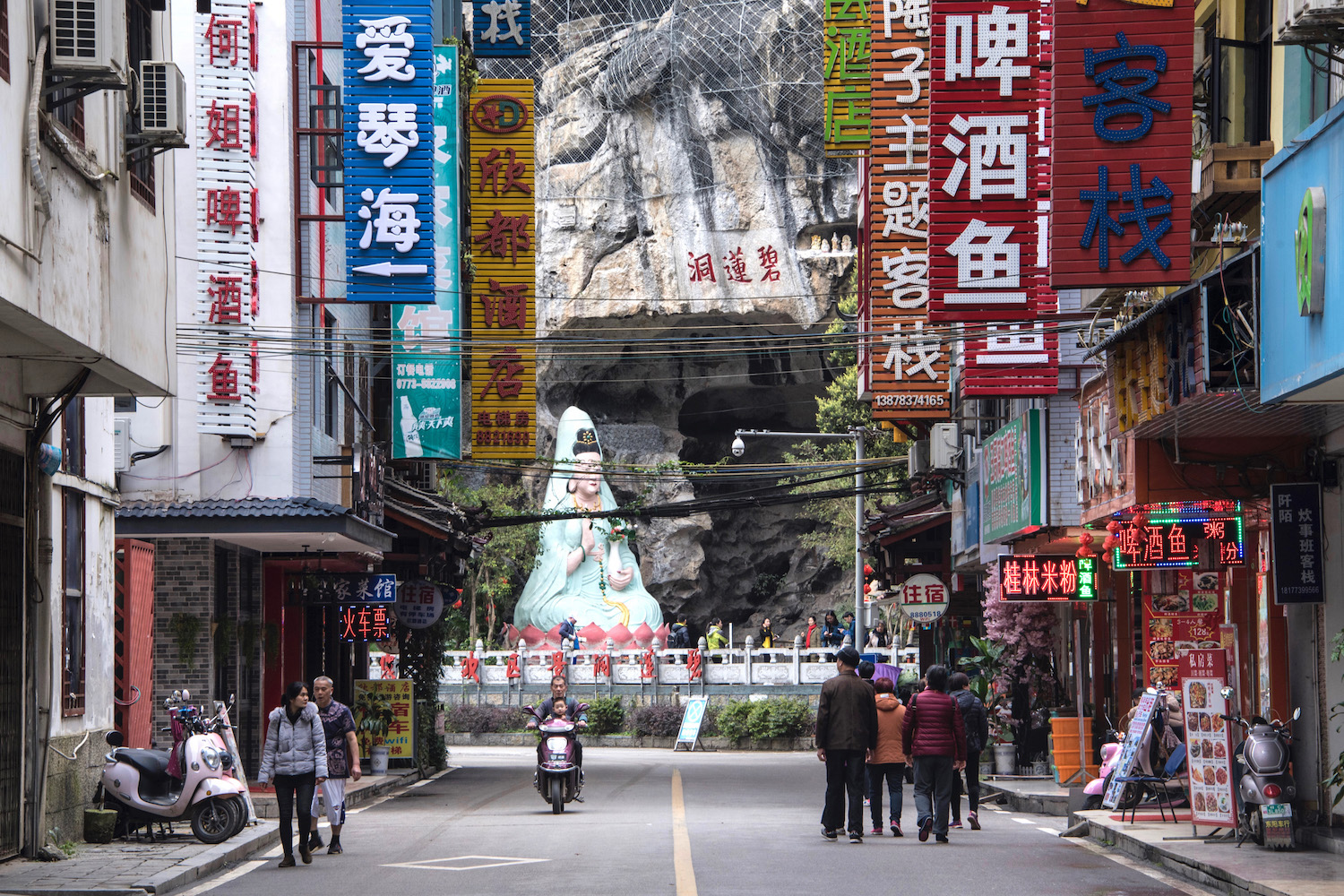 After declining the hotel's third attempt at selling us tickets to a nearby "cultural performance," I suggested to Wei Le that we rent bikes and ride to Yulong Bridge. He seemed less than convinced our journey would be relaxing, let alone that the reality of a Li River Cruise would match my romanticized expectations.
"We traveled from Guilin to Yangshuo," he laughed as we arrived at the bridge, which was a veritable mob scene—throngs of group tourists following leaders waving flags in the air, "and so did all of Guilin."
Full Bloom
Which is not to say that our excursion was for naught, even if the 30 km bike ride nearly killed Wei Le and bruised both my ass cheeks. You see, while frolicking amid fields of technicolor rapeseed flowers isn't among the top things to do in Yangshuo for eleven-and-a-half months out of the year, we happened to touch down precisely when the plants had reached full bloom.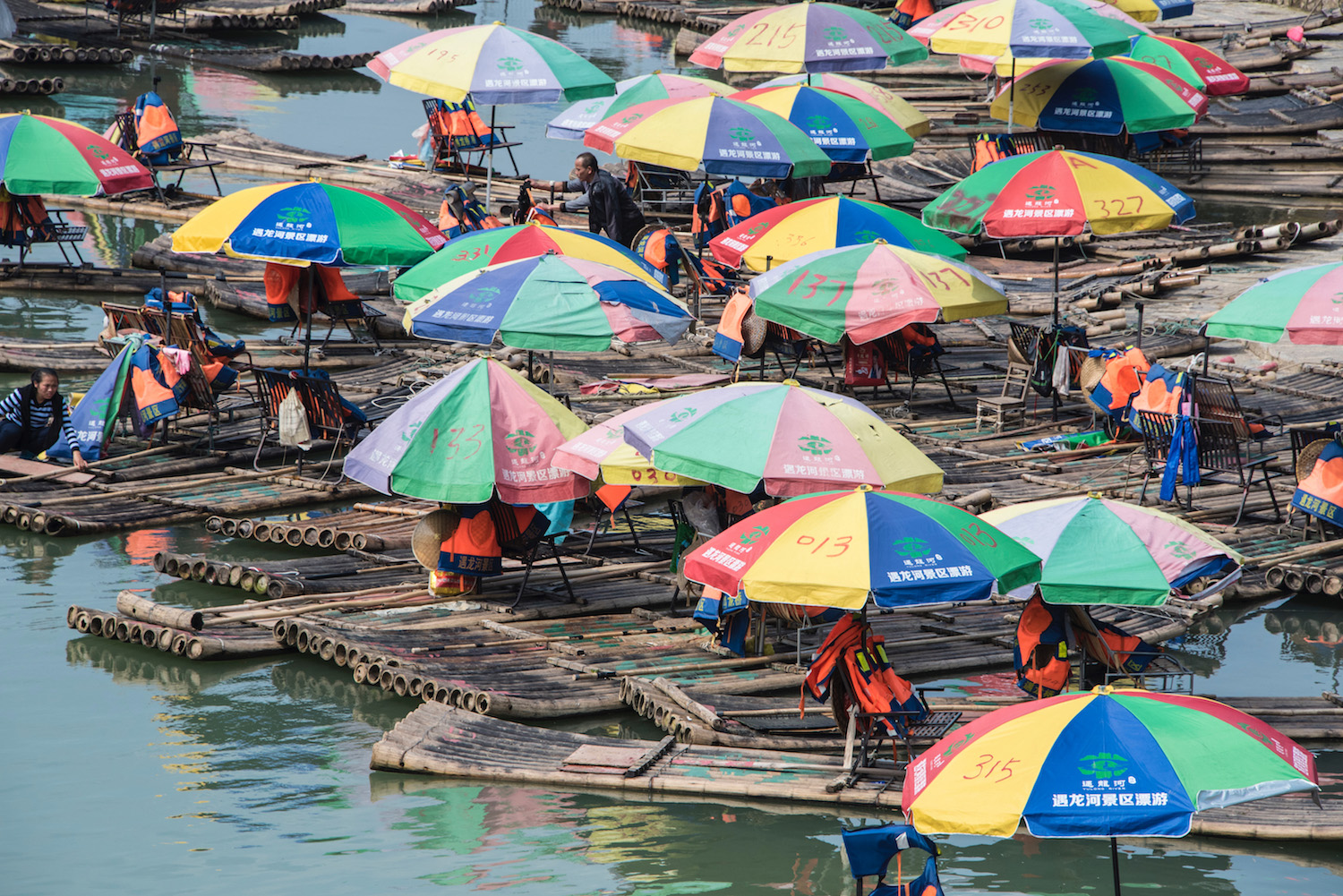 But I wasn't content to let even this delightful experience be the end of our Guilin Yangshuo adventure. Much to Wei Le's chagrin, I suggested (and he agreed) that we complete the so-called "TV Tower Hike" as planned.
(Spoiler alert: If you're planning on doing this hike, which requires paying a ¥5 bribe to the man living in the tower's control room, you should be aware that it's fenced on all sides, precluding the true panorama you enjoy at the aforementioned view point in Xingping.)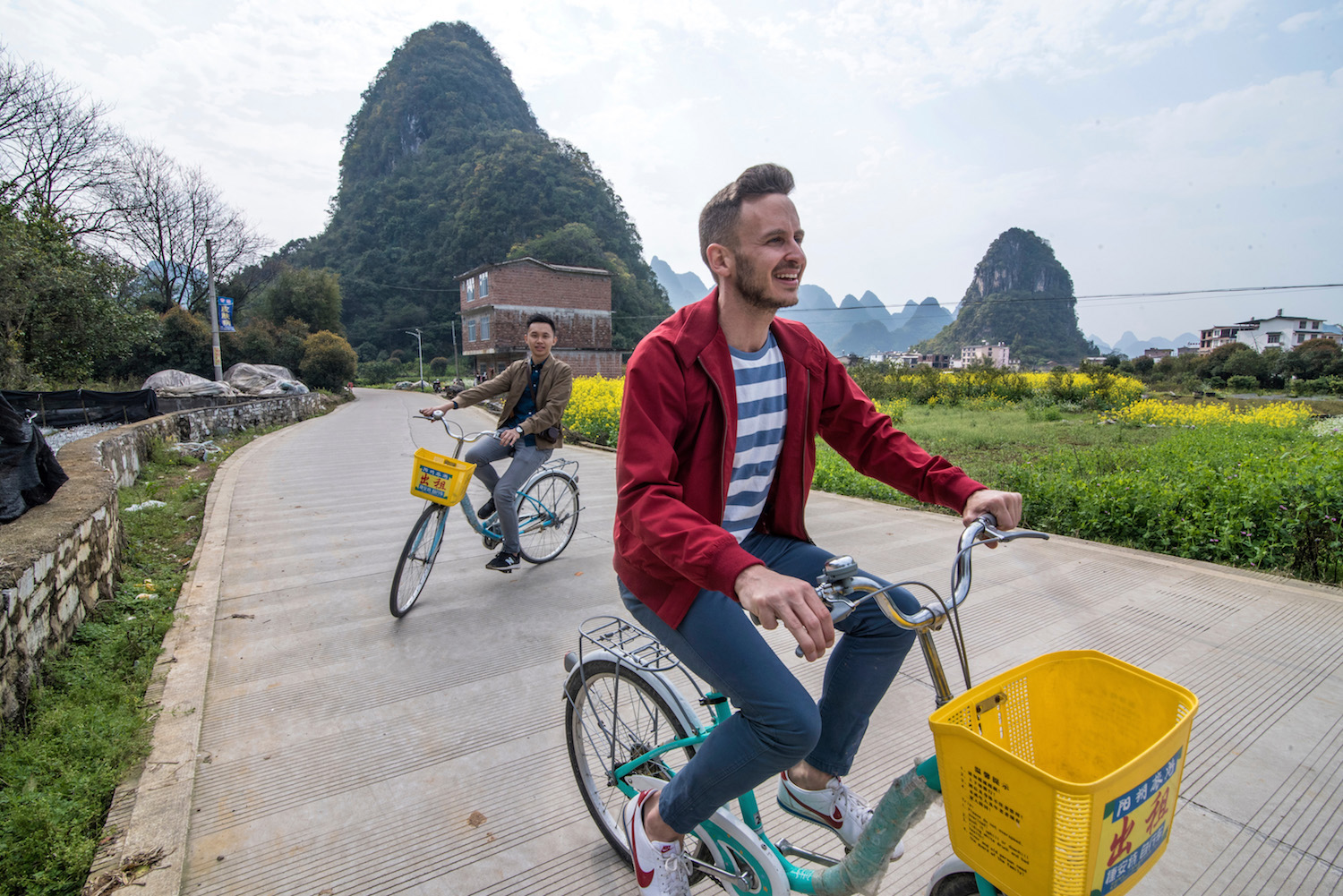 Our proverbial last supper before returning from Yangshuo to Guilin was Chongqing-style hot pot; we each enjoyed a questionably-mixed cocktail with ambiguously-authentic liquor before heading to sleep one final time.
Cloaked in Mist
Ugly weather makes it easier to leave a beautiful place, a truth that defined the last day of mine and Wei Le's trip. Though the weather forecast had called for clear skies, the Yangshuo mountains outside our taxi were completely cloaked in mist.
Our Guilin to Yangshuo adventure exemplified how spoiled residents of Asia are: Otherworldly landscapes in destinations Westerners have never heard of are easy weekend trips for us.