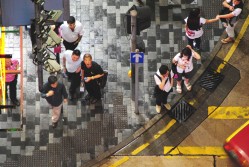 Hong Kong is known as one of the more expensive cities in Asia, behind perhaps only Tokyo and Singapore in price. You can find inexpensive things everywhere you travel if you look hard enough and thankfully, when it comes to cheap Hong Kong hotels and guest houses, you don't have to look very far. If you travel to Hong Hong and are in need of a cheap, centrally-located place to stay, search no further than Chungking Mansions in the Tsim Sha Tsui section of Kowloon.
What Is Chungking Mansions?
"Chungking Mansions" is the name given to a 17-story building located in Hong Kong's Kowloon area, the northern and most residential of the two "lobes" that comprise the city proper. Although more than 4,000 permanent residents call the building home, Chungking Mansions also houses restaurants, currency exchanges, convenience shops — and the largest number of guest houses of any single building in Hong Kong.
Chungking Mansions is specifically reputed to have more than 1,980 guest house rooms, which are also among the cheapest hotel and guest house rooms in Hong Kong. For this reason perhaps more than any other, Chungking Mansions has become a destination for backpackers and budget travelers in a city that isn't big on hostels.
Although Chungking Mansions (like the rest of Hong Kong) is crowded, it isn't roomy, at all — its footprint is more befitting of a San Francisco rowhouse than a New York skyscraper. This is evident perhaps nowhere more than the fact that only two elevators (each of which are weight restricted to fit 3-5 adults) service the entire building. Ouch!
Where Is Chungking Mansions?
Of course, the cheap price of hotel and guest house rooms at Chungking Mansions isn't the only reason it's found such popularity among backpackers and budget travelers. Chungking Mansions not only provides Hong Kong travelers with a cheap place to stay, but also a location even high rollers would envy.
To get to Chungking Mansions, take the Hong Kong MRT to the Tsim Sha Tsui station. After you exit, Chungking Mansions is located literally across Nathan Road. Nathan Road is an enviable area in and of itself — you can experience literally a whole world of dining, cheap electronics and clothing shopping and great city views there.
Chunking Mansions is also an optimal hub for making connections to other areas of Hong Kong. Catch the Star Ferry from Kowloon to swankier, more cosmopolitan Hong Kong island, which is where you can get a visa for China if you need one. Additionally, it's just a few metro stops away from Mong Kok, one of more popular shopping areas in Hong Kong.
Guest Houses at Chungking Mansions
Since Hong Kong doesn't have many "hostels" (as Western travelers would think of them), guest houses are usually the best option for budget travelers to Hong Kong. Chungking Mansions does house some proper hotels, but there is not much discernable difference in quality between more expensive hotels and cheaper guest houses — just book a guest house.
I can personally recommend the New Peking Guest House, which is where I stayed when my friend Dora and her cousin Rick came to China to see me. When it comes to guest houses in Hong Kong, accommodation is like a hotel in that you have a private room with an ensuite bathroom, but like a hostel in that furnishings are extremely basic.
One advantage of staying at New Peking Guest House is that several of its rooms are located along the front of the Chungking Mansions building. This vantage point affords you amazing aerial views of street scenes below, particularly at night.
Prices at Chungking Mansions
Speaking of price, prices do vary, depending on which guest house you eventually settle on, how many people you have and which particular room you choose. When I visited Hong Kong in June 2010, my friends and I paid HK$350 (about $45) per night for our private room with ensuite bathroom at New Peking Guest House. Prices for other guest houses in Chunking Mansions may be slightly higher or lower.
To get an idea of what you might pay at New Peking Guest House, do a query for the dates you plan to travel to Hong Kong. You can also try your luck on Google with a query of "Chungking Mansions guest house booking."
One piece of advice before you arrive in Hong Kong: The base of Chungking Mansions is literally infested with hustlers who want to take your money. They will tell you any lie that can, be it that your guest house is closed or even that they are the guest house owner, to get you to come with them. This is why, although I don't always recommend doing so, it is imperative that you book a guest house before arriving in Hong Kong, and head straight to your guest house after you enter the Chungking Mansions building.