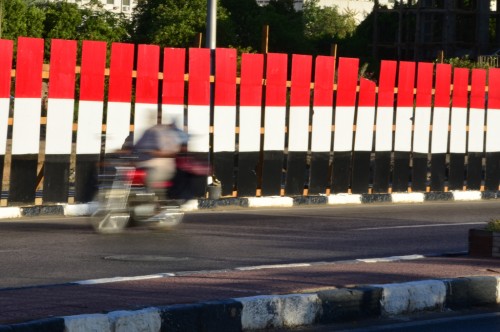 When I announced that I would be visiting Egypt in the Fall of 2011, most said: What on Earth is wrong with you? they would say. Egypt is not a safe place right now!
Although I can't with 100% certainty that Egypt is "safe," I can say that I never once felt threatened traveling there. In fact, I was surprised by how pleasant most every Egyptian person I met was, even knowing I was American.
If you've got Egypt on your travel radar, I definitely suggest you go. My two-week Egypt travel itinerary might not change the country's security situation, but it will make your trip to Egypt much less stressful.
Day 1
Cairo is the easiest place to start your travel in Egypt, and not just because it's where most international flights arrive. Indeed, it is only at Cairo International Airport that you can get an Egypt visa on arrival; if you enter Egypt via another gateway, you must obtain your Egypt visa in advance. Spend your first day in Cairo relaxing.
Day 2
Spend your second day in Egypt exploring Cairo. Walk through Old Cairo and Coptic Cairo and visit the famous Mohammed Ali Mosque. After lunch, head to the Egyptian Museum and enjoy sunset from along the Nile by taking a dinner cruise.
Day 3
It's pyramid day. Arrange a taxi, preferably through your hotel or hostel, to the pyramids of Giza. If you have a full day, consider adding an excursion to the other pyramids in Dashur and Saqqara.
Days 4-5 (optional)
Spend 1-2 days in the desert at Bahariya Oasis. Any hotel or hostel can arrange this excursion, which allows you to ride a camel into the Sahara and camp under the stays.
Alexandria
Day 1
Take a train from Cairo's Ramses railway station to Alexandria. The trip takes about three hours, so leave early if you only want to spend one day in Alexandria. Walk along the city's coastal corniche, and see famous attractions like the Alexandria Library, Alexandria National Museum and the Roman Amphitheater. Return to Cairo by train, or…
Day 2 (optional)
Spread your Alexandria sightseeing out and return to Cairo at the end of the second day instead of the first. Take an optional excursion to Alexandria's suburban beaches.
The Sinai Peninsula
Day 1
Fly (or, alternatively, take a bus) to Sharm el-Shiekh, the tourist hub of Egypt's Sinai Peninsula. Relax on the beach at Naama Bay or, if you're into scuba diving, diving at any of the legendary Red Sea sites near Sharm el-Shiekh.
Day 2
Arrange a taxi, preferably with your hotel or hostel, to Ras Mohammed National Park, located approximately 30 minutes from Sharm el-Shiekh by car. The park is desolate and beautiful, with amazing and secluded swimming locations and breathtaking cliffs.  Return to Cairo by bus or plane, or…
Day 3 (optional)
Take a bus or taxi up the coast to the bohemian Red Sea town of Dahab, which is something of a backpacker haven. As is the case in Sharm el-Shiekh, you can relax on the beach or scuba dive.
Day 4 (optional)
Arrange a day-trip to Mt. Sinai of biblical fame. Hike to the mountain's summit during the afternoon to enjoy a dramatic sunset from its peak.
Southern Egypt
Day 1
Rest upon your return to Cairo from Sinai, then travel from Cairo to Aswan by overnight train. Note that although your hotel can arrange a tour to central or southern Egypt, it may not be really organized. Book at your own risk!
Day 2
Visit the Aswan High Dam in the morning and take a boat to Philae Temple in the afternoon. Enjoy a relaxing meal in the center of town in the evening, and walk through the Aswan Old Bazaar after nightfall for spices, clothing and souvenirs.
Day 3
The caravan to Abu Simbel, home to one of the largest temples in Egypt, departs at 3 a.m., so arrange a day tour at least a day in advance, and go to bed extremely early. Spend the day exploring the temple, which is located in the Nubian portion of Egypt near the Sudanese border. Return to Aswan in the afternoon, then travel by train to Luxor, or…
Days 4-5 (optional)
Skip the train and book a traditional felucca sailboat along the Nile from Aswan to Luxor. Spend just one relaxing night aboard the felucca, or spread it out over two days for the ultimate in tranquility.
Central Egypt
Day 1
Karnak is the largest temple in the world, and you'll need a full day to explore it. Spend the evening relaxing in your hotel, or smoking shisha at a bar in central Luxor.
Day 2
Visit the Valley of the Queens, where Egyptian queens are buried, Valley of the Kings, where you can find the pharaohs, and Hatshepsut's Temple, which is largely reconstructed. Spend the evening exploring Luxor's night market, then travel back to Cairo via overnight train.