Burundi (pronounced [buˈɾundi]), officially the Republic of Burundi, is a landlocked country in the Great Lakesregion of Eastern Africa bordered by Rwanda to the north, Tanzania to the east and south, and the Democratic Republic of the Congo to the west. Its size is just under 28,000 km² with an estimated population of almost 8,700,000. Its capital is Bujumbura. Although the country is landlocked, much of the southwestern border is adjacent to Lake Tanganyika.
The Twa, Tutsi, and Hutu peoples have occupied Burundi since the country's formation five centuries ago. Burundi was ruled as a kingdom by the Tutsi for over two hundred years. However, at the beginning of the twentieth century, Germany and Belgium occupied the region, and Burundi and Rwanda became a European colony known as Ruanda-Urundi.
Political unrest occurred throughout the region because of social differences between the Tutsi and Hutu, provoking civil war in Burundi throughout the middle twentieth century. Presently, Burundi is governed as a presidential representative democratic republic. Sixty-two percent of Burundians are Roman Catholic, eight to ten percent are Muslims and the rest follow indigenous beliefs and other Christian denominations.
Burundi is one of the ten poorest countries in the world. It has the lowest per capita GDP of any nation in the world. Burundi has a low gross domestic product largely due to civil wars, corruption, poor access to education, and the effects of HIV/AIDS. Burundi is densely populated, with substantial emigration. Cobalt and copper are among Burundi's natural resources. Some of Burundi's main exports include coffee and sugar.
Burundi's first democratically elected president was assassinated in October 1993 after only 100 days in office, triggering widespread ethnic violence between Hutu and Tutsi factions. More than 200,000 Burundians perished during the conflict that spanned almost a dozen years. Hundreds of thousands of Burundians were internally displaced or became refugees in neighboring countries. An internationally brokered power-sharing agreement between the Tutsi-dominated government and the Hutu rebels in 2003 paved the way for a transition process that led to an integrated defense force, established a new constitution in 2005, and elected a majority Hutu government in 2005. The new government, led by President Pierre Nkurunziza signed a South African brokered ceasefire with the country's last rebel group in September of 2006 but still faces many challenges.
Burundi's culture is based on local tradition and the influence of neighboring countries, though cultural prominence has been hindered by civil unrest. Since farming is the main industry in Burundi, a typical Burundian meal consists ofsweet potatoes, corn, and peas. Due to the expense, meat is only eaten a few times per month. When several Burundians of close acquaintance meet for a gathering they drink impeke, a beer, together from a large container to symbolize unity. Notable Burundians include the footballer Mohammed Tchite, singer Jean Pierre Nimbona, popularly known as Kidum (who is based in Nairobi, Kenya).
Crafts are an important art form in Burundi and are attractive gifts to many tourists. Basket weaving is a popular craft for Burundian artisans.Other crafts such as masks, shields, statues, pottery are made in Burundi.
Drumming is an important part of Burundian cultural heritage. The world-famous Royal Drummers of Burundi, who have performed for over forty years, are noted for traditional drumming using the amashako, ibishikiso, and ikiranya drums.And a new group called the Burundi drummers Of Atlanta have been showing their talent lately and they are said to be magnificent at what they do. Dance often accompanies drumming performance, which is frequently seen in celebrations and family gatherings. The abatimbo, which is performed at official ceremonies and rituals, and the fast-paced abanyagasimbo are some famous Burundian dances. Some musical instruments of note are the flute, zither, ikembe, indonongo, umuduri, inanga, and the inyagara.
Kirundi, French, and Swahili are spoken throughout Burundi. Burundi's literacy rate is low, due to low school attendance. Ten percent of Burundian boys are allowed a secondary education. Burundi's oral tradition is strong and relays history and life lessons through storytelling, poetry, and song. Imigani, indirimbo, amazina, and ivyivugo are types of literary genres existing in Burundi.
Basketball and track and field are noted sports in Burundi. Football is a popular pastime throughout the country, as are mancala games. In Burundi most Christian holidays are celebrated, with Christmas being the largest.Burundian Independence Day is celebrated annually on July 1. In 2005, the Burundian government declared Eid al-Fitr, an Islamic holiday, to be a public holiday.
In April 2009 the government of Burundi passed changes in law, criminalising homosexuality. Persons found guilty of consensual same-sex relations risk two to three years in prison and a fine of 50,000 to 100,000 Burundian francs. Amnesty International has condemned the action, calling it a violation of Burundi's obligations under international and regional human rights law, and against Burundi's constitution, which guarantees the right to privacy.
The last of Burundi refugee camps in Uganda and Tanzania closed in 2009, and most refugees returned to Burundi, ending a process that had begun in 2002. However, many Burundian refugees who had fled to Tanzania in 1972 accepted an offer of Tanzanian citizenship. The CNDD-FDD won 64% in local elections in May, 2010; opposition parties accused the government of fraud, but foreign observers said the voting was generally free and fair, though the campaign had been marred by violence. The opposition candidates for president withdrew from the June presidential election, asserting it would be rigged, and Nkurunziza was reelected unopposed.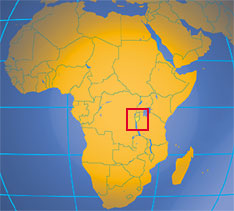 Notes from Wikipedia and Answers.com