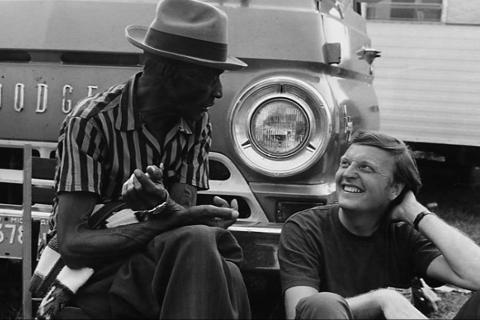 "It's impossible to look at the history of blues, Cajun and Zydeco music without looking at Chris Strachwitz' role. He's a monumental figure." – Bonnie Raitt
American music has never been the same, and it started  around 1960 with a man who unearthed a musical landscape. Strachwitz has been the guiding force behind legendary Arhoolie Records, bringing Cajun music out of Louisiana, Tex-Mex out of Texas, blues out of the country – and creating a place for them in the living rooms of Middle America.
Born a German count, Strachwitz fled his homeland after WWII at 16. Once here, he discovered, and shared, a musical depth that most Americans missed.
THIS AIN'T NO MOUSE MUSIC! chronicles the fifty-year quest for the musical soul of America by roots music icon Chris Strachwitz.
This foot tappin', groove movin' documentary takes you from New Orleans to Texas, Cajun county to Appalachia, in celebration of Strachwitx' vision of American music.
This means music that is anything but the corporate "mouse music".  It is music that is deep-rooted in its' community.  Strachwitz brought performers such as bluesman Mance Lipscomb and Lightnin' Hopkins, Norteño musicians Flaco Jiménez, as well as Lydia Mendoza, Cajun musicians Michael Doucet and the Savoy Family, and Zydeco king Clifton Chenier into a national and world spot light.
This Sage Blossom Productions film features Richard Thompson, Bonnie Raitt, Ry Cooder, Flaco Jiménez, Michael Doucet, Santiago Jiménez, Jr., Taj Mahal, The Pine Leaf Boys, the Treme Brass Band, No Speed Limit.
This documentary works to bring alive musicians that are now gone, such as Lightnin' Hopkins, Mance Lipscomb, and Clifton Chenier through Strachwitz' collection of rare photos and music.
Another special quality of this documentary is the collaboration of  veteran filmmakers Chris Simon and Maureen Gosling whom have been friends and colleagues of Strachwitz' for over thirty years.  While they each have been independently making documentaries; THIS AIN'T NO MOUSE MUSIC! is their first film together and the first they have premiered at SXSW.
Photo Credit: sxsw.com