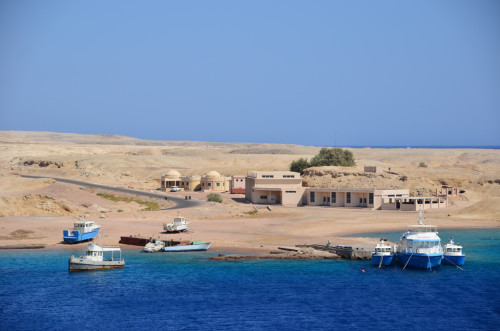 With an enviable location on the sparkling, clear Red Sea, it's no surprise that Sharm el-Shiekh, Egypt has gained international fame as a scuba diving destination.
That said, there are many reasons to go to Sharm el-Shiekh, even if you're more comfortable above the sea than under it.
Na'ama Bay  
Na'ama Bay is the primary tourist area of Sharm el-Shiekh, and while beaches in Na'ama Bay leave something to be desired — they are beautiful, but crowded — there's still plenty to do.
If you're hungry, find food from basically everywhere in the world at Na'ama Bay restaurants, which range from simple and inexpensive, to flat out luxurious. There's even a healthy helping of international chains, such as Chili's and Hard Rock Café.
Think you can't drink in Egypt? Think again! Na'ama Bay, for one reason or another, has much more liberal policies on alcohol consumption than much of the rest of Muslim Egypt.
Pounding bars and nightclubs are open until the wee hours of the morning.
Ras Mohammed National Park
If you do want to hit up a beautiful Sharm el-Shiekh beach without thousands of tourists around you, ask your hotel reception to arrange a taxi transfer to Ras Mohammed National Park. The journey should cost around 300 Egyptian pounds, and takes about an hour each way.
Ras Mohammed National Park pairs biblical looking desert cliffs with some of the bluest water you've ever seen. The best part? Owing to its remote location, at the very southern tip of the Sinai peninsula, there's almost no one else there. Well, except for some colorful fish you'll have no problem seeing through the crystal-clear water.
Sharm el-Shiekh City
Sharm el-Shiekh city, which is really more of a town, isn't the most exciting place in Egypt, but it's a great way to pass an afternoon or evening. For example, on the way back to your hotel from Ras Mohammed National Park.
Interesting things to do in Sharm el-Shiekh city include the Al Musterfa mosque, which towers above the desert landscape, and the memorial to Flash Airlines flight 604, which crashed off the coast of Sharm el-Shiekh in 2004.
Getting to Sharm el-Shiekh
Sharm el-Sheikh might not look very remote on a map. But in fact, if you travel overland with Cairo, it can take as long as 12 hours.
Sinai Visa
If the Sinai peninsula is the only place you travel in Egypt — this might be the case, for example, if you're coming from Eilat, Israel — then you needn't apply for an Egyptian visa in advance.
That's because the Egyptian government issues Sinai-only visas on arrival at the country's land border with Israel. Note that if you change your plans, you will need to leave Egypt and apply for a visa at a foreign Egyptian embassy or consulate.