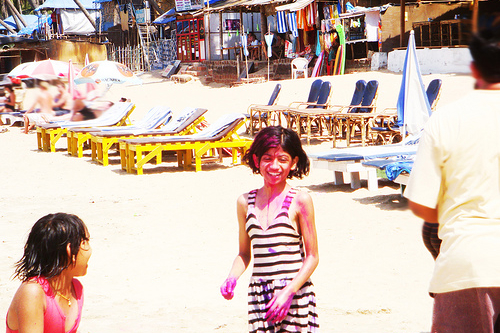 I vividly remember walking onto Goa's Palolem Beach the morning of March 11, 2009. Camera in tow, I was planning to walk to the northern end of the beach while the tide was low, so that I could climb to the top of a high hill I'd spotted at sunset the previous evening.
Imagine my surprise when a girl half my height jumped out in front of me. "Happy Holi!" she shouted, and threw fluorescent pink powder at me.
For a moment I was annoyed, maybe even angry. What was this little monster's problem? Nevermind that my ailing camera was probably now filled with whatever substance she'd doused me with — my hair was fucked up!
Within a few seconds, however, it became clear that something greater was afoot. A veritable parade of people, seemingly all women and children, came onto the beach, all armed with the same bright powder the little girl, who was running to join them, had thrown on me.
As I turned around to head back to my beach hut and tell my friend Dora what had happened, an older Indian man tapped my shoulder. "You do know what's happening today, right?"
I shook my head. "Wrong."
"It's Holi," he said, "a festival for Hindus, Sikhs and others that celebrates the arrival of spring with bright colors. H-O-L-I, though," he clarified. "Not like Christians' 'holy.'"
"Gotcha," I said, and thanked him. Headstrong traveler that I am, I again attempted to retreat back to my sleeping friend.
But the man — and the five other men who had joined him over the course of our split-second exchange — had another request.
"Can you take a picture with us?"
I smiled. "Sure." I handed him my camera. "As long as I get one, too."
Now, I know what you're thinking. How could you to India without knowing about Holi, Robert?  
You have a point! But if you'll remember, my trip to India was my first travel outside of the developed world, like, ever. The fact that I wasn't aware my trip to India coincided with a festival many travelers prioritize when planning theirs was merely symptomatic of how woefully underprepared I was for my larger India experience.
But then again, aren't (seemingly) random occurrences like powder assaults from children the very best part of travel? I mean, had I gone to India knowing full well what Holi was and when it would be occurring, I might not have been in idyllic Goa at all — many Goans are not Hindu. I can't imagine having celebrated Holi in crowded Delhi.
Furthermore, I might not have spent the first day of the Holi festival so wholly blissed out: I never did make it up to that cliff and instead, spent the day celebrating with friendly locals on Palolem Beach and in the town.
Nonetheless, if you plan to travel to India in 2013 or 2014, and want to know when the festival occurs, here are the dates: March 27-28, 2013; March 17-18 2014.