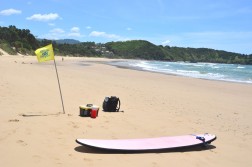 Few activities are more inextricably linked with Australia than surfing. This isn't entirely surprising, given that Australia is completely surrounded by water, much of which barrels toward the country-continent in the form of inviting waves.
In spite of how ideal it is to surf in Australia, it was actually by chance that I decided to learn how to surf in Australia. A conversation with Davina at Uluru Camel Tours in Australia's red center led me to Helene Enevoldson, who operates East Coast Surf School at Diggers Beach in Coffs Harbour, New South Wales, about 500 km north of Sydney.
Whether you're looking to improve your skills or are a complete beginner like I was until a few hours ago, Helene and her hand-picked crew will have you riding waves in no time.
Australia's First Surf School
A skilled surfer since age five, Helene Enevoldson had sought to pass her love of surfing onto others, particularly young women who wanted to join what had typically been a boy's club. When she first came up with the idea of starting a surf school in 1992, there were literally no other such operations in Australia.
Twenty successful years later Helene, who now works with a staff of between five and eight instructors, maintains the same vision for East Coast Surf School that she had at the beginning. It has never been about becoming famous or "big" notes Enevoldson, who's turned down numerous offers from larger operations over the years, but rather making an impact on the people who learn to surf or improve their existing surfing skills at East Coast Surf School.
The factor most central to the gradual, steady success of the East Coast Surf School has been the staff, whom Helene hand picks not only the basis of skill, but also based on their personalities and the extent to which they work as a team — or, as she describes it, a family — to provide one-of-a-kind surf instruction to surfing newbies and novices from all over the world.
The Three-Step Process of Surfing
If you come to East Coast Surf School as a beginner like I did, your instructor will use a simple, three-step system to get you riding waves in no time. I was lucky enough to be under the advisement of Panchi, a charming 19-year Argentine native whose parents moved to Coffs Harbour more than a decade ago and have since launched a successful hotel.
As Panchi did with me, your instructor will first school you on the basics of mounting the board and riding a wave while you're comfortably on the sand. After a few practice waves, you'll return to the beach and learn the two steps that get you standing on the board. Once you've mastered the first, which involves pivoting one of your legs into standing position, you learn the third and final step, put it all together and are surfing like a pro. Well, not in most cases, but you'll feel like one.
Indeed, how easily this comes to you is a matter of several factors. Panchi told me that people who've skated or snowboarded in the past tend to have an easier time with surfing, even if they're total beginners. Regardless of how quickly or slowly you master the steps — I was somewhere in the middle — your instructor will be kind, patient and most importantly enthusiastic about helping you learn to surf.
Rates, Schedules and Information
Although I was lucky enough to have my first surf lesson in one-on-one format, private surfing lessons aren't all that East Coast Surf School offers. The type of surfing lesson or lessons you choose depends not only on your existing level of surfing skill, but also the level of skill you would ideally like to acquire.
For those just looking to give it a go, à la carte group surf classes are available starting at $55. Multi-class courses, on the other hand, aim to help new surfers acquire some skills and technique and experienced surfers to improve theirs and run between $135-200, depending on how many classes you want to take. Private lessons, which help you work on literally any aspect of surfing your little heart desires, start at $7o per hour. All lessons come with a board and, if necessary, board shorts and/or wetsuits.
If you have questions or want to book, the easiest way is to call East Coast Surf School at 0266 515 515 within Australia or to email Helene. It's important to note that while East Coast Surf School aims to hold your lesson at the agreed-upon date and time, Helene and her staff may choose to move the time of your lesson slightly depending on the weather and quality of surf.
I'm going to be honest: I didn't have a lot of interest in surfing before this opportunity came up, but my decision to have done something different became immediately worth it the first time I stood up on the board and rode a wave into the shore, as awkward as I probably looked doing. If you're planning to travel up the coast of Australia from Sydney at any point in the near future, look into booking a lesson with East Cost Surf School in Coffs Harbour, even if you're convinced you can't surf  – Helene and her crew would beg to differ.